Tricycle Europe's family keeps growing! Kathrin has recently started at Tricycle as our newest Junior Business Consultant, "supporting Marketing & Sales specialists of leading technology corporations benefit from the digital transformation, to leverage their personal networks to achieve their goals".
It is always a great joy for us to see new smiling faces and to add new talented employees to our team. Welcome to the team, Kathrin! We are excited to have you on board and wish you a successful journey ahead.
Our newest member is Kathrin Fischer!
" I am joining Tricycle Europe as a Junior Business Consultant. In this role I am supporting Sales and Marketing professionals to win in the social space, to boost their professional brand and to leverage their social networks which helps them achieve their business goals. Already in my first interview I was super enthusiastic about the dynamic industry we are working in and the fact that Tricycle establishes a lasting relationship with its clients, working with them over years. I am a strong believer in the power of building loyal connections and love that Tricycle does that also internally, really investing in everyone's learning and progress."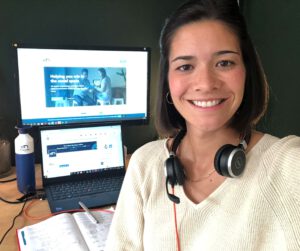 After her onboarding, Kathrin has been interviewed by our marketing department to bring you a bit of her story.
Where have you lived in your life?
I am from Frankfurt, Germany but for the last 9 years I have moved around the world – from Argentina to the Netherlands, to Canada and Belgium and back to the Netherlands. Now I live in beautiful Amsterdam, where I feel home most.
What is your favorite childhood memory?
I remember a lot of positive moments from my childhood, especially the holidays when we visited the whole family. We are 6 cousins so there was always a loooot going on when we were all together. My favourite childhood memory is one of my grandma showing all of us around her lovely garden and telling us about every plant she had. The most interesting ones were the berries; because I loved and still love to eat them 😉
What is the best piece of advice you've ever received? 
That you always meet each other twice in life. My parents have always told me that and I think this is really true.
What is the coolest thing about your job? 
I love the dynamic technology sector we are in and that you learn something new every day. No day feels like the other, which is challenging but also really cool and motivating! Among the coolest thing are also my wonderful colleagues. Everyone is super supportive and even though I have met most of them only online, I have felt like a valuable part of the Tricycle family since day 1.
What was the first thing you bought with your own money? 
Too much ice cream. My parents invented an ice cream tax to make sure me and my brother didn't spend all our money on it 😉
If you could time travel, when and where would you go? 
The Woodstock festival in 1969.
If you could pick a superpower, what would you choose? 
I would love to be able to teleport. I would love to see friends and family much more often who are living across the world.
What's your favorite inspirational quote? 
One of the quotes that really drives me in everything that I am doing is "Great things never came from comfort zones". I do not know who has put it out there, but I have it as a postcard on my desk and it motivates me in the morning and has guided me through my life 😊
Having a new employee results in a growing team, which means we are getting more resources to bring you closer to our mission: establish the foundation for large technology companies to win in the social space. We believe that the future will be shaped by how people use digital tools and platforms.  If you want to know how we can guide you in your digital transformation journey, do not hesitate in reaching out to us.