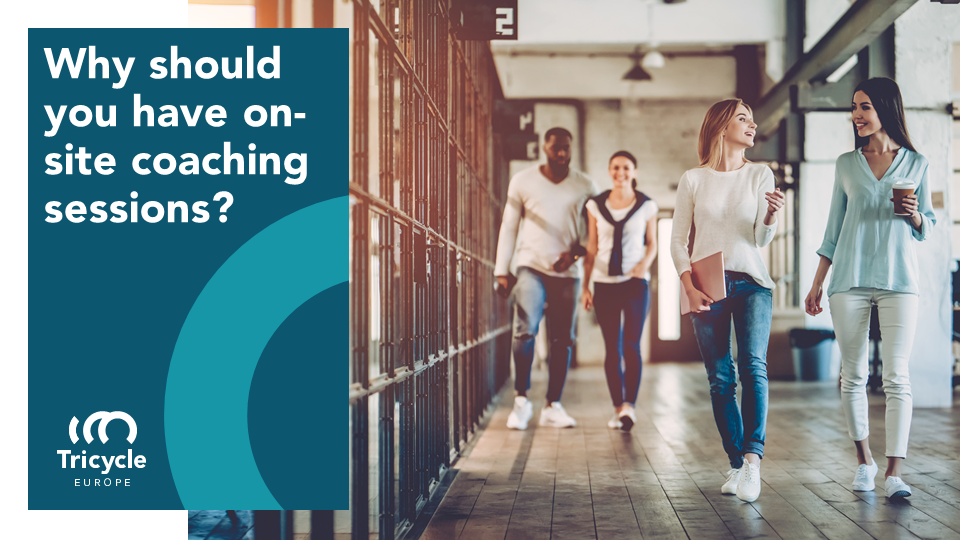 Why should you have on-site coaching sessions?
Digital Marketeers are struggling when helping their sales teams to digitally transform. One way to overcome challenges is to get professional coaching help. It's been proven that change comes with two big components: the mindset and the behavior change.
Reports demonstrate that those professionals that invested in a business coach, they were able to perform twice better than other professionals that still do business in a more traditional way.
Due to modern workplaces, it becomes more common that such a coaching consultancy is carried out in the online space. However, it is extremely important to keep the human-to-human (H2H) approach. Business is still done by people. Therefore and in order to trigger the change and make it sustainable, soft skills are needed by those professionals.
To achieve so, Tricycle Europe delivers made-to-measure coaching programs that combines virtual sessions with on-site professional coaching sessions that increase the level of engagement, hence, motivation, to change towards a more digital strategy that will improve business results as for the other savvy sales & marketing professionals. In the following interview, you will find the inner insights of one of our coaches, Eric Haar in his recent Social Selling Day in Dublin. 
Laura: Eric, welcome!
Eric: Hi, thank you!
Laura: Thank you for being here. You recently came back from a trip, where you were hosting a Social Selling Day and it was a bit different from the other ones you've done. How so? What was different?
Eric: The format changed in this one. We had a larger audience, we have split audience. One that was on the actually a web portion and the other was a live audience, right in front of us. We used two coaches to be able to kind of engage with both parties and it turned out to be very successful because, at Tricycle, we are always trying to leverage new ways to get better engagement in our sessions.
Laura: Great! And you've just mentioned co-presenting with another coach, how does that feel like?
Eric: Co-presenting with a coach is amazing because you get twice the amount of information, twice the amount of engagement and, at the end of the day, to be able to entertain our attendees as well as educate them is always the goal for coach.
Laura: Now, I know that you do a lot of online sessions, so I wanted to ask you what is the benefit of doing an on-site one? Being in front of your audience, your participants.
Eric: Just like we talked about before. Adding a second coach is basically adding another connection point to really make the sessions more entertaining and more engaging. It's all about that personal connection, that I think can lead to better follow up engagement in the online space for these online sessions that we do.
Laura: Thank you so much Eric.
Eric: Thank you.
It's been said that soft skills are important as well as the level of motivation, engagement, to adopt the transformation. Nonetheless, the coaching help provided by Eric and his business coaching team can also enable other digital skills that are extremely necessary to remain competitive in this globalized & digital world such as Social Selling skills. Therefore, we've designed a webinar to update you on the latest LinkedIn updates and to show how top sales professionals are using social selling tools, why you should embrace it and how to effectively implement a social selling strategy. You can sign up here or below by clicking on the picture.