Tricycle Europe's family keeps growing! It was just a few days ago that we introduced you to Jossie, now it is time to present Javier. After more than 4 years working at Microsoft as a Marketing & Sales professional, he is now starting at Tricycle as our newest Account Manager. Javier is here to bring his experience and knowledge to our customers, and to help them to succeed in the digital space by aligning their sales and marketing teams. He believes that "digital transformation is the present, the digital environment is the future, but growth mindset, focus on empowering society to achieve more and make this world a better place, will always remain".
It is always a great joy for us to see new smiling faces and to add new talented employees to our team. Welcome to the team, Javier! We are happy to have you onboard and wish you an exciting and successful journey ahead.
Our newest member is Javier Ortiz!
"I'm joining Tricycle to learn more about how to sell in the new digital era, as Tricycle has been providing enablement sessions to my previous company: Microsoft. I'm joining as Key Account Manager and I'm thrilled to start learning from the masters!"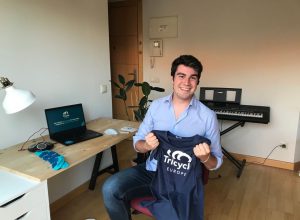 After his onboarding, Javier has been interviewed by our marketing department to bring you a bit of his story.
Where have you lived in your life?
I've lived in Madrid and Valencia (in Spain), although I like to say that I lived in China for a month when I went backpacking with my friends in 2015.
What is your favorite childhood memory?
The Beach Boys concert in Spain, I got to meet the group and after the concert, Alan Jardine brought me up to the stage to give me some guitar picks and show me all the setup. It was amazing!
What is the best piece of advice you've ever received? 
My dad has always been my soul guide, and his best advice is "Every moment is the time to shine and every day tries to be a better Javier from the Javier you were yesterday".
What is the coolest thing about your job? 
Well, I have to say that my teammates seem to be the coolest (although we'll see that in the next months 😊). About the role, I think the coolest thing is to develop the strategy to meet the customer needs and the biggest level of satisfaction.
What was the first thing you bought with your own money? 
I bought a Jazz workshop for guitar! Always looking to learn more and more!
If you could time travel, when and where would you go? 
I would like to travel to New Zealand during summer to visit all of the Lord Of The Rings setup (I'm a bit geek) and also visit the amazing environment they have.
If you could pick a superpower, what would you choose? 
I would love to have the ability of teleportation. It would save me a lot of time 😊
What's your favorite inspirational quote? 
"A journey of a thousand miles begins with a single step" – By Lao Tzu.
Having a new employee results in a growing team, which means we are getting more resources to bring you closer to our mission: establish the foundation for large technology companies to win in the social space. We believe that the future will be shaped by how people use digital tools and platforms.  If you want to know how we can guide you in your digital transformation journey, do not hesitate in reaching out to us.