If only there was a way to package, share and track targeted content for your prospects with one easy tool…
If you're still regularly faced with this frustrating dilemma, do yourself a favor and stick around for a bit, because we've got some good news! LinkedIn's (fairly) recently acquired tool PointDrive, has found a way to make it happen.
PointDrive puts the power of marketing in the hands of all customer-facing individuals. The tool enables its users to create a professional looking, personalized and customizable collection of content, which can be shared with target audiences through one tiny URL. The cherry on top of this socially delicious cake? All engagement and activity can be easily tracked and monitored via your own personal dashboard.
PointDrive has enabled people with a talent for talking, to keep the gloss on a successful face-to-face sales-conversation, when it moves to an online environment. No more clumsy emails with dozens of bullet points and attachments, no more endless forwarding , no more information falling through the cracks due to poor targeting, but one streamlined overview of everything you want to share, for whomever you want to share it with.
It didn't take long for our Social Selling team to realize exactly how valuable PointDrive can be, and we've elaborately incorporated the tool into our programs. While diving deep into the world of PointDrive ,we've discovered some nifty hacks and hustles that will help you to make optimal use of this amazing Social Selling tool.
1. Keep it short and visual
70% of users open attachments on the go, and long texts don't read well on a mobile screen. Limit the use of text, and create presentations that are visually appealing.
2. Your cover picture is your share image
So if you are planning on sharing your PointDrive presentation on LinkedIn, make sure you choose an image that enforces your message and presentation. When creating your cover image, work within the right dimensions. The ideal size for a PointDrive cover image is 1600 x 600 pixels and if you add text, work within a 1120 x 300 pixel frame. With these dimensions, your image will display correctly on the cover, as well as on your LinkedIn share image.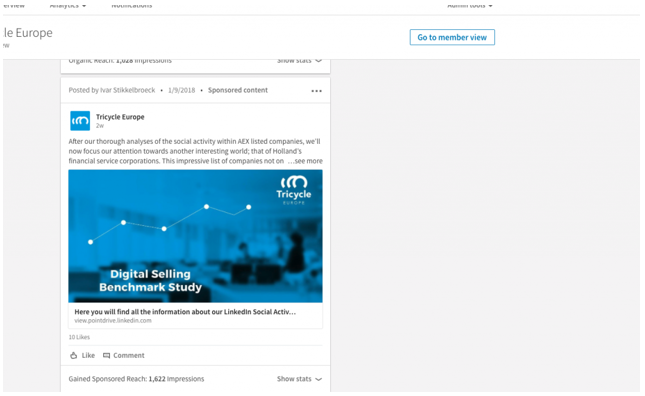 3. Change the title of your assets
It may be a simple tip, but not many people realize that you can actually alter the title of each asset. Simply put your cursor on the automatically generated title and name it however you like!
4. Choose your audience
You can create a PointDrive presentation that markets your general ideas or your business, sharing it on LinkedIn and other social platforms to reach a broad audience. But you could also create a tailor-made overview of specific information you want to share with a specific person or group. PointDrive is a versatile tool, so use it for different purposes!
5. Personalize your presentations
If you're approaching several different prospects with similar content, you can easily copy your PointDrive presentations and personalize them. PointDrive is the ultimate Account-Based Marketing tool.
6. Change your asset images
PointDrive will automatically scrape a feature image from your file when you upload it to your presentation. These images are usually fitting, but sometimes, you can find one that is better suited. You can easily change the feature image in your editing screen.
7. Don't gate your content
PointDrive offers great visibility in who views your presentation and how he or she engages with your content. There's no use in gating the assets that you share in your presentation, because PointDrive already provides you with all the necessary insight.
8. Mix up your content
Make your presentation come to life with a variety of content. Think outside the box; add short clips, interesting websites or informative articles to give your presentation that extra oomph! You can monitor how much time each viewer spends reading a specific asset. Use this knowledge to your advantage and place your most important message with the most popular content.
9. Send out your contracts through PointDrive
If you have some official documents to send out, wrap them up in a PointDrive presentation! This will give you visibility into whether or not the receiver has viewed and opened your document.
10. Start connecting!
PointDrive provides you with the wonderful opportunity to monitor precisely who is interested in your content. Use this data and connect with your viewers on LinkedIn, you know they are already predisposed to your message!
11. Have a clear process in place
Make sure you target before you shoot. What do you want to accomplish with this PointDrive presentation? Who do you want to reach and why? And finally, what is your follow up plan?
PointDrive has proven itself one of the most effective and efficient Account-Based Marketing tools and at Tricycle Europe, we use it on a daily basis. Have you discovered the power of PointDrive yet? How has it helped you connect?
https://www.linkedin.com/pulse/11-pointdrive-hacks-hustles-help-you-get-top-ivar-stikkelbroeck/