Introduction
Context
In the fast-paced world of digital business, one might think that speed and scale are the primary drivers of success. However, when it comes to Account-Based Marketing (ABM), a more nuanced approach is often more rewarding. Specifically, understanding the intricate dynamics of your key accounts—right up to the executive level—can offer insights that generic marketing tactics fail to uncover. While this may not be a standard practice in every industry, the benefits, as we'll explore, are compelling.
Need for the Article
While numerous social listening tools can capture data across various platforms, LinkedIn stands as a notable exception due to its data limitations. However, the good news is that with a bit of time and focus, manual data collection on LinkedIn can be quite straightforward and rewarding.
---
The Problem Space
Challenges in Existing Methods
The challenge isn't necessarily with the capabilities of social listening tools; rather, it lies with LinkedIn's own restrictions. LinkedIn's policies prevent these tools from accessing the type of data that would allow for nuanced analytics. This means that while you may have powerful social listening software at your disposal, it can't tap into LinkedIn to offer the depth of insights you might expect from monitoring other platforms.
Why Executives Matter
Executives are not mere figureheads; they are decision-makers and tone-setters. Their priorities shape organizational behavior, making understanding their views crucial for targeted marketing efforts.
---
The Concept of Social Listening on LinkedIn
What It Is
Social listening, in the context of LinkedIn, involves actively monitoring and analyzing the activity and engagement of key executives on this platform.
Why It's Important
Focusing social listening efforts on key accounts provides targeted, actionable insights, which can significantly enhance your Account-Based Marketing (ABM) strategies.
---
Practical Guide to Manual Social Listening on LinkedIn
Time Allocation
As a general guideline, allocating around 15 minutes per executive can yield effective insights for your social listening report.
Step-by-Step Guide
Identify the Executive: Start by identifying which executives in your key accounts are active on LinkedIn.
Review Activity: Examine their posts, comments, and articles, along with their engagement metrics.
Note Themes: Look for recurring themes, challenges they mention, or focus areas they seem interested in.
Analyze Language: Consider the language and tone they use, as this can indicate their current mindset and organizational culture.
Sample Report Structure
Your social listening report should include categories like Executive Profile, Activity Summary, Key Themes, and Actionable Insights.
---
Building a Strategy for Key Accounts
Utilizing Insights
The data collected can serve as raw material to build targeted strategies aimed at fostering deeper connections with key accounts.
Focusing on Connectivity
Utilize the social data gathered to inform your outreach and engagement tactics, focusing on building stronger relationships.
Aiming for Personalization
Tailor your messages and offerings according to the executive's expressed needs and pain points, making your approach more precise and effective.
---
Empowering Your Sales Team
Translating Strategy into Actions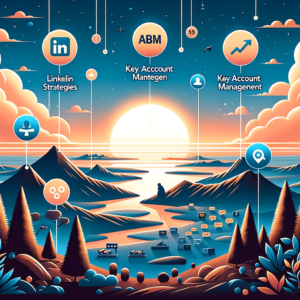 Equip your sales team with these personalized insights, enabling them to approach key accounts with increased efficacy.
Achieving Quotas
Adopting a more strategic, personalized approach has the potential to significantly improve the rate of quota achievement.
---
Conclusion
The Big Picture
The nuanced art of manual social listening on LinkedIn provides an invaluable avenue for enhancing your ABM strategies, thereby paving the way for a more personalized, effective approach to key account management.
Next Steps
The insights gathered through this methodology are just the starting point. I encourage you to continue your explorations and leverage these techniques for your ongoing ABM initiatives.