Tricycle Europe's family keeps growing! With a background in Sales and Marketing, Hassan is now starting at Tricycle as our newest Jr. Inside Sales Account Manager. His background has shown him "the enormous value that a harmony of unique skill sets can bring", and inspired him to "promote authenticity and the idea of 'being yourself' in every aspect of life."
It is always a great joy for us to see new smiling faces and to add new talented employees to our team. Welcome to the team, Hassan! We are excited to have you on board and wish you a successful journey ahead.
Our newest member is Hassan Atef!
"When I came across the job vacancy at Tricycle on LinkedIn, I felt the sudden urge to stop everything I was doing and apply for it. It was just one of those feelings you sometimes get and I cannot be any happier for deciding to do so. I have learned so much in the three weeks that I've been here, and I'm only getting started. I've joined Tricycle as a Sales Pipeline Creator for the month of December, during which I'll be helping out with some projects that need to be completed before the year's end. In January, I will be moving into my main position as a Junior Inside Sales Account Manager to help further develop our business ventures and guide our clients through the all-important Digital Transformation."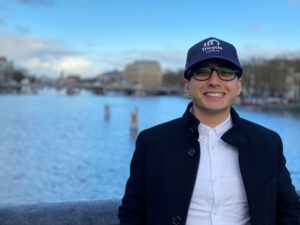 After his onboarding, Hassan has been interviewed by our marketing department to bring you a bit of his story.
Where have you lived in your life?
My life has been quite adventurous and has given me the opportunity to live in some wonderful countries, such as the UAE, the Netherlands, and Germany.
What is your favorite childhood memory?
There's a memory from my childhood that has remained with me through all these years. It's one of those memories which you never forget and is so brief that you sometimes think it never actually happened. It's a memory of when I was around 5 years old and I had woken up late into the morning, walked out the bedroom and saw my big brother watching Aladdin the animated series from the 90's. I felt this overwhelming sense of calmness at the time, and the memory is so vivid that every time it crosses my mind, it gives me a similar sense of serenity.
What is the best piece of advice you've ever received? 
To live and experience life in the present. To try the things and take the risks that you want in life right now, because life goes by rather quickly, and the regret of not taking chances when you could have bears more weight than the feeling of anxiety you may currently have.
What is the coolest thing about your job? 
The people I am working with, without a doubt. The entire Tricycle team has welcomed me with open arms and everyone is so supportive of each other. It's great to be a part of such an organization. I've also come across some of the most incredibly talented and hard-working people I've ever met here, so the office has it's fair share of inspiration to pick up on whenever you need it.
What was the first thing you bought with your own money? 
I'm almost certain it was takeout pizza.
If you could time travel, when and where would you go? 
I'd probably want to go to Europe during the Middle Ages, and see all the significant events that took place in person. Although, I probably don't want to stick around there for too long though, as it could get pretty crazy and fairly fast at that.
If you could pick a superpower, what would you choose? 
Probably Superman's powers, or powers that would enable me to fly at the speed of light and survive in outer space. That way, I can go around the universe and see what's up.
What's your favorite inspirational quote? 
It doesn't matter how many times you fall, what matters is how many times you get back up and keep moving forward.
Having a new employee results in a growing team, which means we are getting more resources to bring you closer to our mission: establish the foundation for large technology companies to win in the social space. We believe that the future will be shaped by how people use digital tools and platforms.  If you want to know how we can guide you in your digital transformation journey, do not hesitate in reaching out to us.