Tricycle Europe's family keeps growing! With a background in Marketing and a mission "to encourage others to maximize their potential and see the positive aspects of life", Laura has recently started at Tricycle as our newest Junior Business Consultant.
It is always a great joy for us to see new smiling faces and to add new talented employees to our team. Welcome to the team, Laura! We are excited to have you on board and wish you a successful journey ahead.
Our newest member is Laura Lucchese!
"I'm joining Tricycle as a Junior Business Consultant to help sales and marketing professionals around the world optimize their online brand in order to reach business goals and leverage their network effectively. What attracts me most about Tricycle and my role is the strong focus on building relationships as a key business value based on trust, empathy and manners. Additionally, I feel empowered and excited to work in an environment that is innovative and fast-paced, always searching for data-driven solutions and collaborating with leading B2B technology companies. Together with a team of experts, I want to achieve great things!"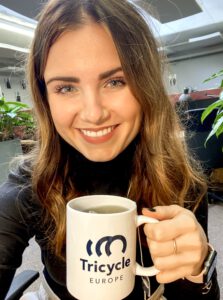 After her onboarding, Laura has been interviewed by our marketing department to bring you a bit of her story.
Where have you lived in your life?
I see myself as a global citizen and love to call the world my home, traveling around and staying in different places. So far, I got the chance to live on Long Island/New York and Bali as well as in the Netherlands, Sweden, Qatar, Italy, and Germany (as a true home base where I grew up).
What is your favorite childhood memory?
Traveling to Mexico, where I went kayaking in the Mayan rainforest and swimming in ancient caves with my parents.
What is the best piece of advice you've ever received? 
Tomorrow is a new day. And live every day as it'd be your last. This means that regardless of how you feel about something today, you must go within yourself and ask how much it will still matter tomorrow – let alone next week, next year and so on. By answering this honestly, you can decide how you prioritize and feel about something today and take action accordingly. Use every day, make conscious choices and don't waste time worrying or being mad about something that doesn't matter long-term; classically also referred to as You Only Live Once (aka YOLO, the hype from a few years ago still applies today).
What is the coolest thing about your job? 
Helping people by initiating direct impacts, which includes working with people on a highly professional level but also personally, and putting myself into their shoes and perspectives outside my own bubble. Also, I have the feeling that no day will ever be the same and that I'll be challenged daily to grow as a person. Likewise, I love to work in an international environment and my colleagues are fantastic; even before day 1, I felt super welcome and fully supported.
What was the first thing you bought with your own money? 
Not quite sure about this one, but most likely snacks as it's always been my biggest weakness to resist.
If you could time travel, when and where would you go? 
I'd travel to the year 2033 to see how life looks by then to be able to prepare myself on how to adjust to which changes.
If you could pick a superpower, what would you choose? 
Either teleportation and being able to travel around the world without losing time, or having a 'real-life remote' to fast forward or slow down reality. I could skip dull moments and reach meaningful and exciting situations faster. Or the other way around, if I want to stop time or make it pass slower, I could do that as well.
What's your favorite inspirational quote? 
"We can never obtain peace in the outer world until we make peace with ourselves." – Dalai Lama
Having a new employee results in a growing team, which means we are getting more resources to bring you closer to our mission: establish the foundation for large technology companies to win in the social space. We believe that the future will be shaped by how people use digital tools and platforms.  If you want to know how we can guide you in your digital transformation journey, do not hesitate in reaching out to us.