A few days ago, we were welcoming Nicole. We are always excited to see new smiling faces and to add a new employee to our team. Welcome to the Tricycle Europe family, Nick. We are excited to have you and look forward to watching grow personally and professionally. Let the journey begin.
Our new employee and smiling face to join the team is Nick Tjintjelaar!
"Greetings, I'm Nick and I am the new employee for the social selling team, a new coach on board! I'm excited to be welcomed to the Tricycle team and look forward to growing into my role and taking on each and every day as an opportunity to learning something new and exchanging value with other professionals in the sales and marketing space."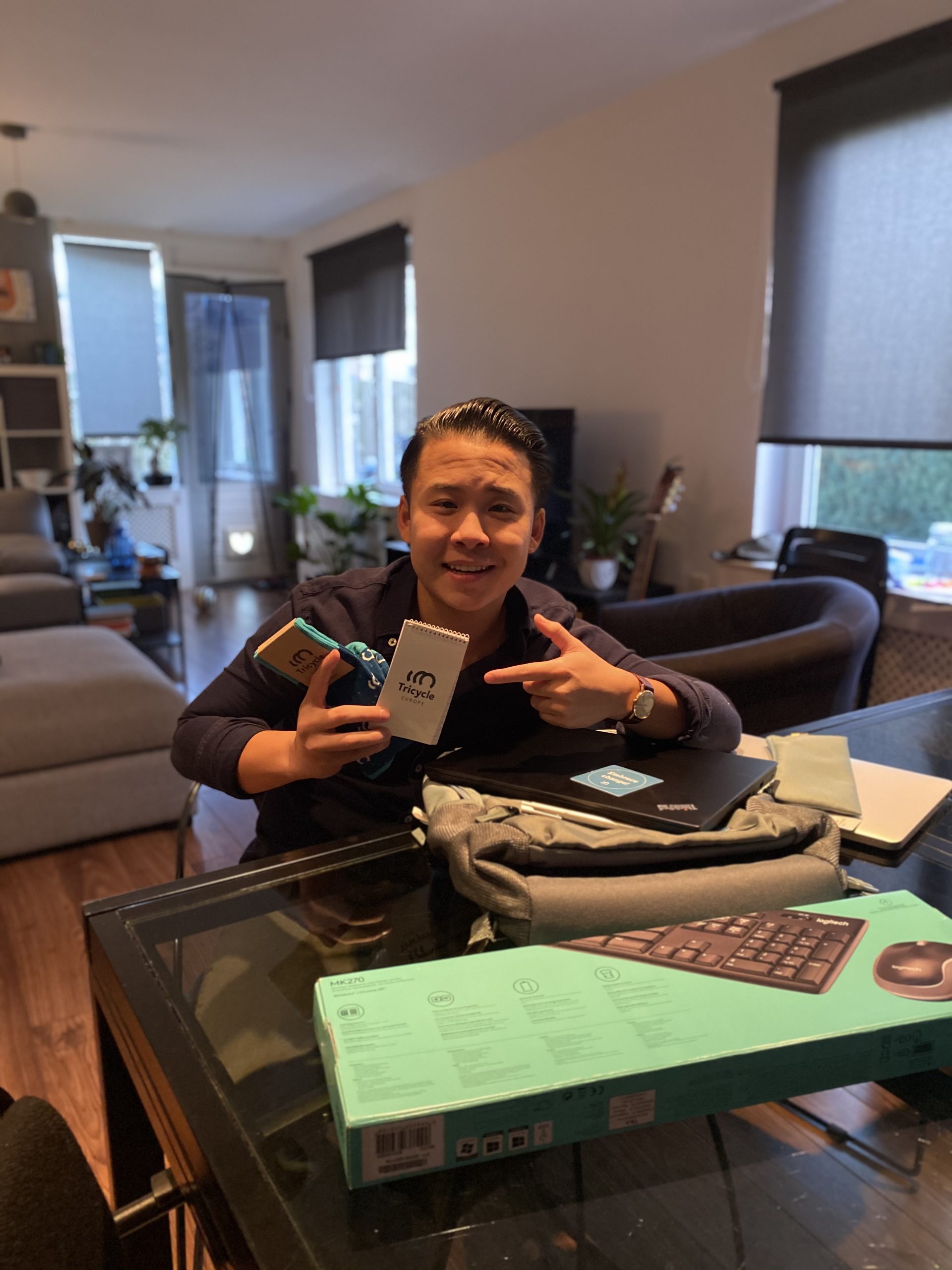 After his onboarding, Nick has been interviewed by our marketing department to bring you a bit of her story.
Where have you lived in your life?
I've grown up living in The States, Thailand, Singapore and for the most of my life in Indonesia. In 2014, I came to the Netherlands to pursue my Bachelor's and Master's degree in Communications, and to see what The Netherlands had in store for me, allowing me to go back to my roots- considering I was born here, after all.
What is your favourite childhood memory?
My favourite childhood memories tend to bring me back to travelling to places I've not been to before. Amongst my fondest memories are having gone to Australia and surfing for the first time, as well as having gone to Bali to go snorkelling in the (what used to be) blue Bali sea… shame what it has become now, because of the pollution and hyper-tourism. Good thing Indonesia still has dozens of blue waters and unbeaten tracks alongside the green valleys and vast mountains.
What is the best piece of advice you've ever received?
Not too long ago, with having to graduate my Master's and search for a job in the midst of a pandemic, my best friend told me to be patient and persistent.
Rather than focusing on the things I don't have control over, the best I can do is focus on what I can control, be patient, and persist.
What is the coolest thing about your job?
I think the best thing about working at Tricycle so far has been how my colleagues are nothing short of kind and welcoming to the extent that I feel like I'm being adopted into a family away from home, only then in the workplace, which is great!
What was the first thing you bought with your own money?
It dates back to the day I got my first paycheck working my part-time job as a waiter, after having moved to the Netherlands for the first time. First thing I did was buy myself a pair of sneakers I've been eyeing on, and what I then did was pay it forward to my parents, as I have them to be thankful for everything, and also bringing all the closest people in my life out to dinner and drinks.
If you could time travel, when and where would you go?
I would love to teleport to the future, say, 15 years from today, to see where we would be with regards to climate change, technology and cures for diseases…; would be interesting to see how this Co-vid19 thing pans out!
If you could pick a superpower, what would you choose?
Well, the power of Omnipotence feels like it'd be a good power to have. Why take a lesser power like being limited to time travelling or flying…  when you can have it all!
I could go on and on about what I'd do, but for starters, why not solve world hunger… establish world peace…. and make the world a better place, all in a blink of an eye!
What's your favourite inspirational quote for the upcoming year?
From a book, I've been reading called "Man's search for meaning" by Viktor Frankl. —The meaning of life is unique to each moment; no situation repeats itself."
I think it sheds some light into the context of today; despite the uncertainties, we may as well embrace each moment as it is, through good and bad; we ought to be resilient, persevere and give ourselves reasons to be happy.
Having a new employee results in a growing team, which means we are getting more resources to bring you closer to our mission: establish the foundation for large technology companies to win in the social space. We believe that the future will be shaped by how people use digital tools and platforms.  If you want to know how we can guide you in your digital transformation journey, do not hesitate in reaching out to us.