The Game of Thrones SSI competition – The Social Selling Index is a LinkedIn feature to measure our online activity and gives us helpful insights into how well we are positioning our professional brands and how visible and credible they are. Overall, the SSI gives us solid guidance on our stand on Social.
With the help of the SSI, we aimed to answer some decisive questions: Who is well-connected and can therefore leverage valuable connections? Who is regarded as knowledgeable and wise, thus demonstrating the expertise it takes to lead? And who has the backing and trust of the masses?
A struggle for power, influence, and prestige: Game of Thrones has most of us on the edges of our seats wondering who will rise to rule the seven kingdoms. Old prophecies, long-running blood lines and mystical powers certainly play a role in the struggle for leadership, but there are other factors as well. We at Tricycle Europe came to the conclusion that there are a couple of candidates who might have what it takes to claim the throne.
Tyrion Lannister – Bran Stark
Tyrion Lannister | Executive Assistant/Hand of the Queen | Targaryen Enterprises | Growth management & leadership training
Prof Branding: 16/25 – Known for his wit and strategic thinking, he positions his value-adding skills well. Nonetheless, there is a lot of private information out there which is irrelevant and blurs the messages of his brand (think, drinking habits and preferred leisure activities).
Right People: 19/25 – Tyrion is certainly well-connected; he knows who to befriend and his connection to Daenerys and Sansa demonstrates his understanding of power structures. Yet his family background not only adds prestige to his name, but also creates barriers for him as many valuable connections approach him with scepticism.
Engagement: 23/25 – Always up-to-date, thinking ahead and outside the box. This is one of his strong suites: he is informed, does his background research and engages with his audiences in a tailored and personalised manner!
Build relationships: 18/25 – The relationship with his siblings, in particular his sister and father, could be a lot better. While the Lannister brand is enabling him in some ways to expand his network, it also limits him significantly, as most of his relatives would like to see him dead.
Bran Stark, three-eyed raven | visionary of the past, present & future | loosely affiliated with the Stark Ltd. | keeping your memories safely stored!
Prof Branding: 10/25 – While there is a lot (!) Bran has to offer; he does not communicate his value very well. The necessary information rarely reaches the right target audience and substantially limits the exposure and visibility of the three-eyed raven. Nonetheless, Bran might possibly not need a profile/professional brand, as he is essentially Westeros' internet, providing any search results you might desire.
Right People: 4/25 – Unfortunately, Bran seems to be unaware of his suitable target audience. While he bonds with some decision makers, such as Jon, Arya, and Sansa, his ignorance of others, such as Daenerys, is striking.
Engagement: 12/25 – He knows it all, which is why he deserves a higher score; however, his engagement is at a bare minimum and he rarely provides useful insights to others.
Build relationships: 12/25 – Bran built a reliable network in the past. He connected to a lot of people in his immediate surroundings, yet he misses out on the opportunity to go beyond this and expand his network.
Tricycle recommendations
Bran should get his message more out there by sharing his value with his target audience! Sending a few ravens or alternatively InMails to build relationships would massively support his position of influence.
Tyrion is already doing very well and demonstrates his skills in strategic networking. However, using the Sales Navigator to not only find the right people, but also to keep an eye on his competition (aka his sister) will assist him in reaching his targets for the business year.­
Daenerys Targaryen – Jon Snow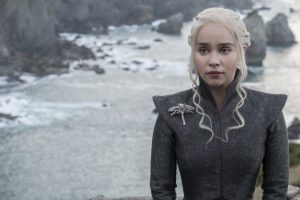 Daenerys, unburnt CEO of Targaryen Enterprises | Mother of Dragons | Chainbreaking & Liberation
Prof Branding: 22/25 – Her brand positioning is very strong thanks to a variety of factors: her family name, her track record on the battlefield, and her fearsome dragons have all helped to spread her reputation like wildfire. She has worked hard to expand her brand's reach across the continents of Essos and Westeros.
Right People: 11/25 – Daenerys definitely knows how to surround herself with intelligent and influential people. However, as she is well aware herself, she lacks some crucial connections to decision makers in important sectors.
Engagement: 10/25 – While she seems to know very well how to engage with certain parts of her target audience, she does not receive any engagement from others. She is able to engage previously disenfranchised populations such as the Unsullied, slaves, and the Dothraki, but she is not able to convincingly convey her message and expertise to potential clients in Westeros and the far North.
Build relationships: 18/25 – With some of the most influential people in the realm bending the knee to her, the Dragon Queen is able to nurture relationships by inspiring both admiration and fear in her subjects. However, she often resorts to dragonfire over diplomacy, which can prevent her from reaching her full potential.

Jon Targaryen, Night's Watch | Survivor | in Cooperation with Stark Ltd. & Targaryen Enterprises
Prof Branding: 20/25 – Jon's main asset is also his biggest problem when it comes to his brand: he is simply too honest. He is generally held in high regard by his fellow Westerosi, and he lets his actions speak for themselves rather than blowing his own trumpet. However, his professional brand might benefit from a little less humility, and more assertiveness in putting his message out there.
Right People: 24/25 – Although he never asked for the crown, Jon is a trusted Thought Leader among his peers throughout the Seven Kingdoms. His brand is built upon credibility, trust, and bravery – and as such, he is easily able to reach out to a diverse client base including those beyond the Wall.
Engagement: 19/25 – Jon is a man of few words, and is very selective when it comes to putting content out there. But whenever he does send a raven out into the world, it receives high engagement, a lot of consideration and the serious attention of his business partners.
Build relationships: 13/25 – Jon is found wanting when it comes to tactically nurturing leads and building relevant relationships, and could indeed learn a lot in this regard from his sister, Sansa. He is not always strategic in separating his private and professional life, as displayed by his ill-advised affair with his aunt.
Tricycle recommendations
Dany needs to brush up her understanding of her buyers: what do these people really want? Which needs and challenges are they facing? Her message needs to be agile and broad enough to adapt to the wide target audience that she has chosen.
Jon could be an absolute Social Selling Rockstar, but he needs to be more confident and strategic. A solid foundation to push his SSI to the next level would be a clear strategy, focusing on his objectives and determining milestones along the way.
The Game of Thrones SSI Competition is in full swing and the Iron Throne still needs to be conquered! Furthermore, if you would like to get a deeper understanding of what Social Selling is all about and how you can successfully push your Social Selling Index to be higher than Tyrion's, sign up for our webinar, on June 5th to find out how Javier Dominguez effectively uses the online sphere to drive business.