Private Mode
When you view a persons profile, you will appear in their "Who's Viewed your Profile" Section. You can switch your settings to private mode, so that you will appear in the "Who's Viewed your Profile" section simply as a "LinkedIn Member". No other information will be shared.
When you browse in semi-private mode, your name will not be shown, but profile characteristics such as job title, company, school, and industry are visible to the member who's profile you visit.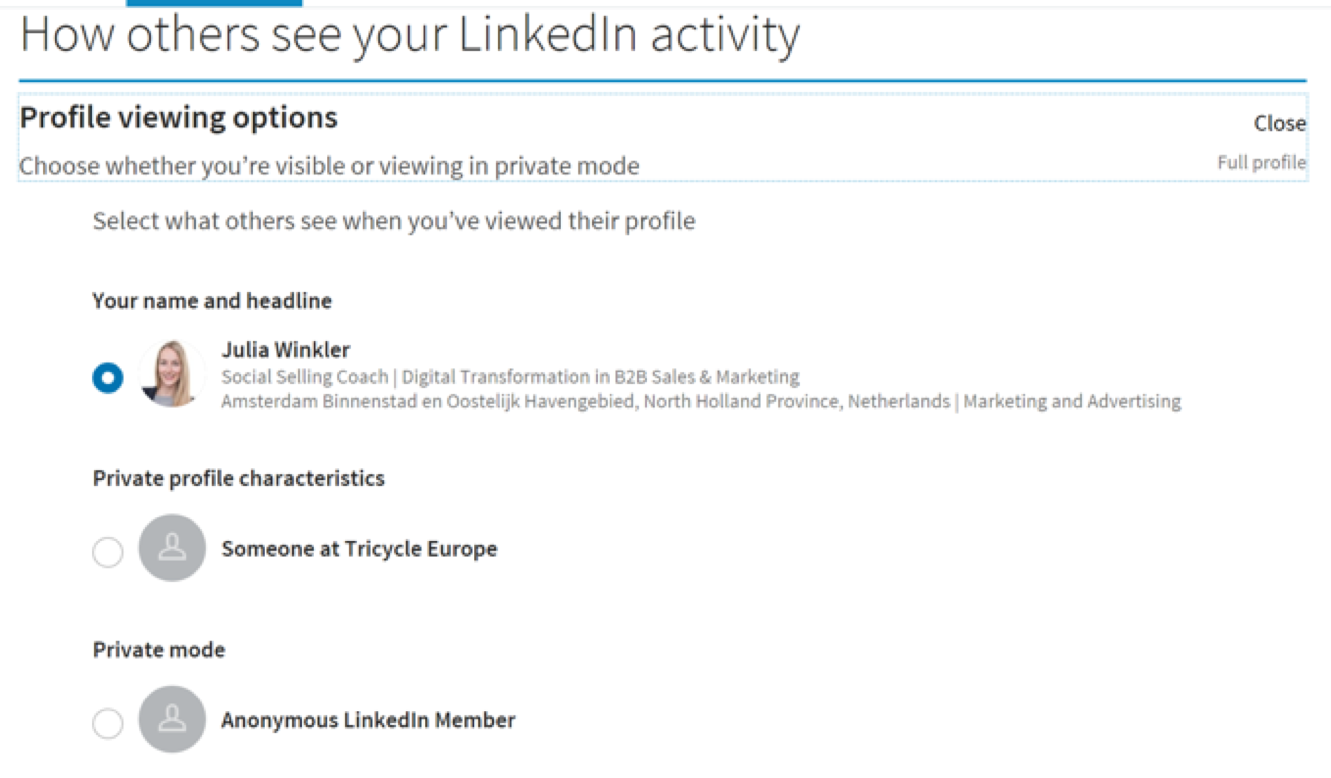 Profile Sharing Options
When you make changes, such as adding a new or current position, editing an existing or current position or when celebrating a work anniversary, you might not always want your network to be notified. You can enable the button on the bottom of the edit window in order to control whether or not your connections are notified.

Switch the button to yes to enable sharing profile changes. By doing so, LinkedIn will create a post in your network's feed. Please note that your network may not receive this notification immediately, since it can take up to 12 hours for job change updates to be processed and shared.
Hiding Contacts 
When you send out a LinkedIn connection request, the recipient is able to view all of your connections through your profile. Some of you might not want their connections to be visible. In that case, you can easily adjust the visibility of your network through your privacy settings.
Personalize your URL 
Having a personalized LinkedIn URL can do wonder for your online visibility and SEO, since Google does not rate generic LinkedIn URL's, but places the customized ones on top in the search results (e.g. on Google).  You can easily customise your URL by going to your LinkedIn profile and pushing the button on the top right corner that says "edit public profile and URL".
 
QR Codes
Connecting with others has never been easier!  In the LinkedIn mobile app, you are able to connect through QR Codes. You will find the feature in the Home tab's search bar. Here, you will not only find your own QR Code to share, but the QR scanner as well. By scanning someones QR code, it will lead you to a LinkedIn profile so that you can directly make a connection. Furthermore, you can share your QR code through messaging apps, emails, website, email signatures or on event materials.  
The QR codes are available now for iOS and Android.