Microsoft is one of the many companies that believe in digital selling and the merging of the online and physical world in every aspect of our lives. That also applies in business, and more concretely in B2B marketing & sales.
One of the company's ambassadors on this topic is Olivia Kearney – Head of Marketing at Microsoft Ireland. Our coach and Marketing Manager, Javier Dominguez from Tricycle-Europe, recently caught up with her after a series of strategic sessions with her sales and marketing teams, in which they developed new tactics to get to know better the customer by identifying key stakeholders and relevant insights about them.
He asked her how digital selling – and Social Selling more specifically –  is helping Microsoft teams achieve their goals and overcome challenges, and what are the most critical changes in marketing today.
In today's evolving business world, digital transformation is running full speed ahead. To be competitive, sales and marketing must respond to changes in the new digital marketplace. One area of particular interest is tapping into the power of social media. Microsoft is one of the many companies that is continually adopting new technology and applying new strategies to merge the digital and physical worlds, narrowing the information gap between their teams and customers. An example is Microsoft's strong belief in digital selling and how it should be an integral force in today's B2B marketing strategy.
Olivia ensures that to adopt the social selling model in any organization, it is necessary to embrace it. The model involves fundamental changes in philosophy, definition, and structure. Both this interview and her LinkedIn profile show the importance of aligning sales and marketing teams as well as adopting new methodologies within marketing and sales.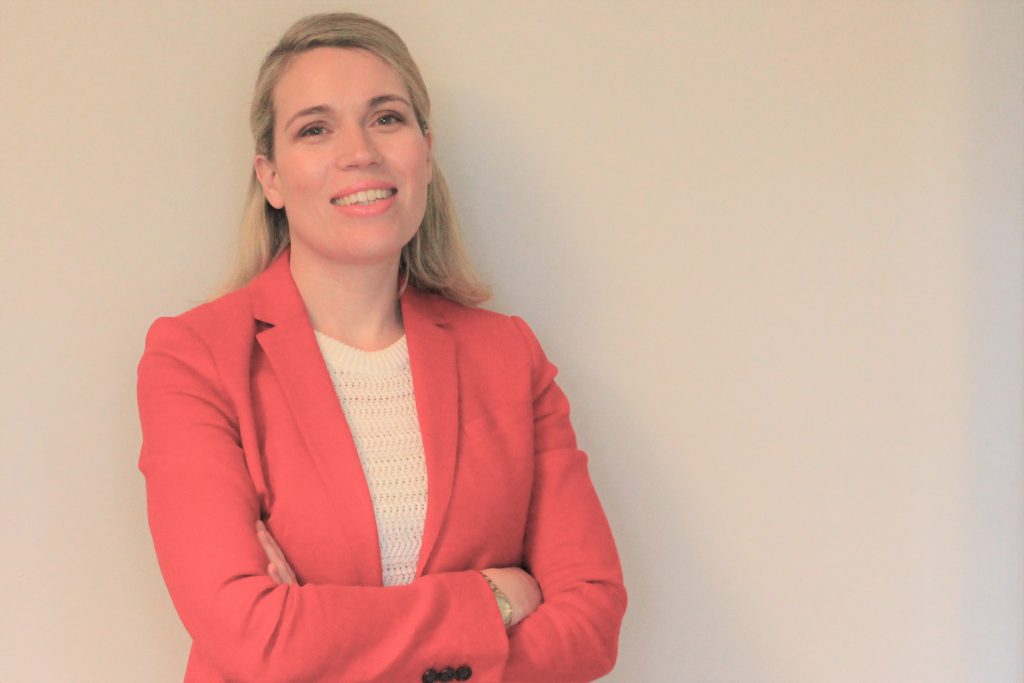 Tell us a little about yourself and your role at Microsoft.
I am currently responsible for developing and executing the commercial marketing strategy for Ireland, supporting our customers in the market to envision and drive their change in how they can operate as a company through their technology.
Furthermore, I am leading the Microsoft Ireland brand that represents 2,000 people across six business functions with more than 73 nationalities. My team and I are responsible for nurturing the perception of the brand from an economic and societal perspective while ensuring we remain relevant across different audiences in the marketplace.
As a result, my role gives me a lot of scopes to develop and curate fantastic platforms such as Dreamspace, which is first globally in Microsoft. It is a dedicated space to all Irish and Northern Irish school children to touch, feel and see the impact of technology, with the ambition of inspiring our next generation our tech stars of tomorrow have the necessary skills to shine.
Why do you believe in digital selling? 
The technology industry is fascinating as it is cutting edge innovation, fast-paced, highly competitive, a global playing field and of course to not only work in technology but also for Microsoft this for sure has been a career highlight to date. Coming from B2C into B2B has enabled me to see the immediate importance and impact of digital selling.
Digital plays several key roles across a customer journey, from evaluation to experience. Customers are better informed and more transient than ever before and bringing the brand alive at every touchpoint is becoming a vital competence for differentiation.
The customer knows more than ever before; they have more alternatives to improve connectivity than ever before. They know what they want 9 out of 10 before they step outside. As a result, we have to understand how to interrupt that positively. Therefore, Digital Selling (or Social Selling) is an opportunity, a channel to identify your audience, to make connections and convert them into meaningful relationships and, of course, digital tools are there as an essential element to create and deliver such relationships.
The importance of social selling or digital selling and creating a culture of it in an organization becomes crucial in the B2B marketing strategy.
How can Social Account Planning (Tricycle's Service) help sales and marketing?
There are multiply benefits:
Organizationally:  it is about building a more connected sales and marketing organization and that, of course, can only be a winning formula.
Sales and marketing must align themselves to a new shared set of goals to reach buyers, as the buying journey is not linear. The traditional model of marketing targets a message to an audience and the sales funnels influences. The WHY to convert is not relevant anymore as buyers are more informed and are leading the journey.
Social selling isn't just for the sales team. For the model to work most effectively, it should be implemented holistically across sales and marketing.
From a brand point of view: when the buyer landscape is changing at such a pace, and there are multiple decision-makers, social media presence is key in a digital customer journey. The social selling model ensures that a company's brand will encourage buyers to seek you out.
Social selling is the new norm. To embrace a social selling model, it involves fundamental changes in philosophy, definition, and structure.
In today's volatile business climate, competition is fierce.  To be truly adaptive, the world of B2B must maintain a successful, seamless strategy that covers both the physical and digital world. To secure their future success, progressive companies such as Microsoft, Citrix, Accenture or Freshworks amongst other large organizations, are looking to gain a 'win' in the social world.  These companies are enabling their employees with new tactics and tools to help keep pace with the new, buyer's journey.
Today's savvy consumers demand more; they need a higher-touch, personalized online experience. At Tricycle-Europe, we help companies achieve more by combining new technology and tactics.  We do so by narrowing the focus towards a strategic, social approach, where authentic communication and relationship building is key.
We want to continue to help companies like yours to win in the social space. If you want to know more about how we have helped many customers to leverage the various advantages that Digital Selling & Marketing, check the latest interview of our CEO – Jochem Verberg. He had a conversation with Javier Dominguez to know more about Social Account Monitoring new service.