LinkedIn has recently released an updated version of one of their products: LinkedIn Events! We are very excited to see how LinkedIn Events has become even more powerful and complete than before. Companies have shifted their marketing event strategy to digital completely. Such a new approach has led to organizations to use LinkedIn Events since it was released in May 2020.
Organizing online events have numerous advantages, but we would like to highlight three:
Online Brand awareness and positioning. We are experiencing a tremendous jump into the future with the current situation. That has led to a tremendous disruption across the business spectrum. As a result, many organizations are adapting to this new reality by re-designing their marketing and sales strategies and offering new products and services. Therefore, it is essential that they are communicating the newest updates of their products and services accordingly. Since physical events or face-to-face meetings are not possible at the moment, enterprises are using more online events or webinar solutions.
Lead Generation. A fantastic way of increasing the business opportunities pipeline is organizing events. At the end of many marketing funnels, you might find online events as a call to action. This allows organizations to showcase and share customer experiences with a larger and targeted audience. After having helped hundreds of marketing directors, they have told us that lead generation is considered an essential pillar in any marketing strategy. 
Increase traffic to your sites. We recommend enabling landing pages for your events in your own sites. Then, you will be re-directing any potential target to your website before registering. That will enable marketing teams to generate more traffic by organizing online events.
After testing and using the renovated LinkedIn Events function, we have decided to share with you a review of the most important features and how it adds value to your events strategy. Here is what's new:
Collect and export the attendee list from LinkedIn Events
When we first started using LinkedIn Events, we noticed something was missing: how to export the list of attendees. Why is this important? Many marketing managers would agree with us that retargeting and lead generation are sufficient reasons to understand the value of exporting an attendee's lists.
How can you enable this possibility? While setting up the first steps in your LinkedIn Events section, you will need to activate the following option: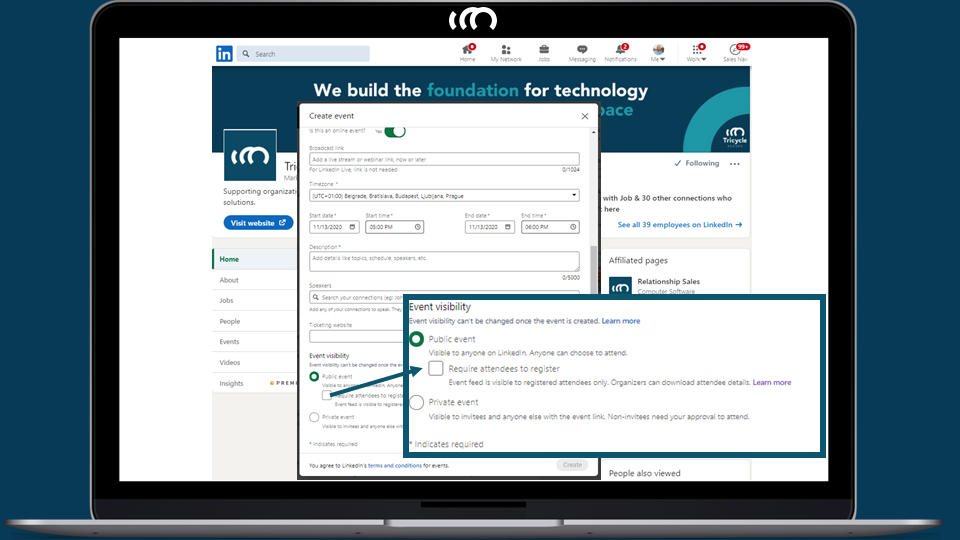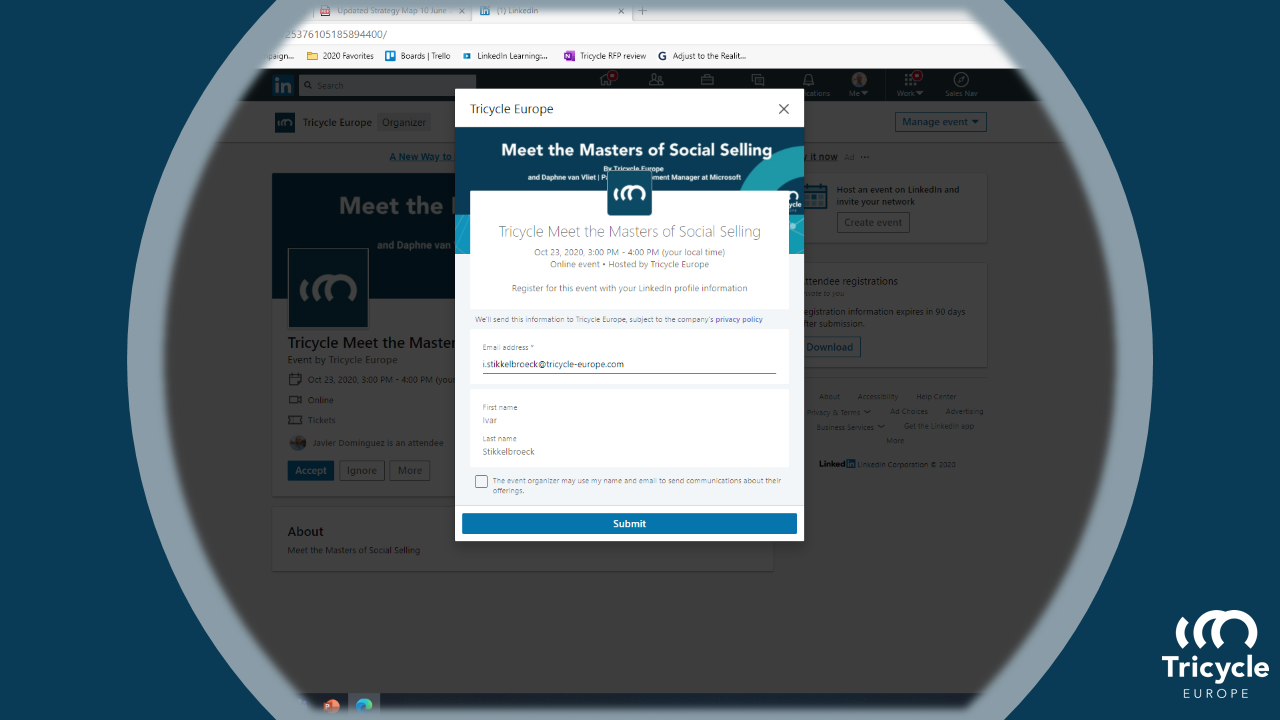 This will mean that your event will be gated. For a prospect to register the event, they would need to leave their details. Is that ideal? Is what LinkedIn users want? In our honest opinion, we believe that LinkedIn Events should be used for visibility and engagement before the event happens, which will eventually lead to people joining your event. We can't forget that professionals are very skeptical when it comes to leaving their precious contact details to avoid massive emails – what we also know as spamming.
On another note, it is fair to mention that gating your events on LinkedIn can also support the marketing strategy and enable retargeting campaigns. Think about analyzing your registration list from LinkedIn Events later on. You will be able to understand what type of audience you have attracted. Moreover, re-targeting is now possible in LinkedIn Paid Advertisement. Check what's new below.
Powerful sharing options
As we mentioned briefly at the beginning of this article, brand awareness can be achieved by organizing online events. LinkedIn Events has enabled the possibility to promote your online events organically. Now you can share the LinkedIn Event pages across different channels in a few clicks. Promote your event to the right audience and leverage the power of your network across your different communication channels. We are digital, so is your target audience.
This update will help not only marketers to be able to share the online event across multiple platforms but also ease the way for employees to become better advocates of your brand.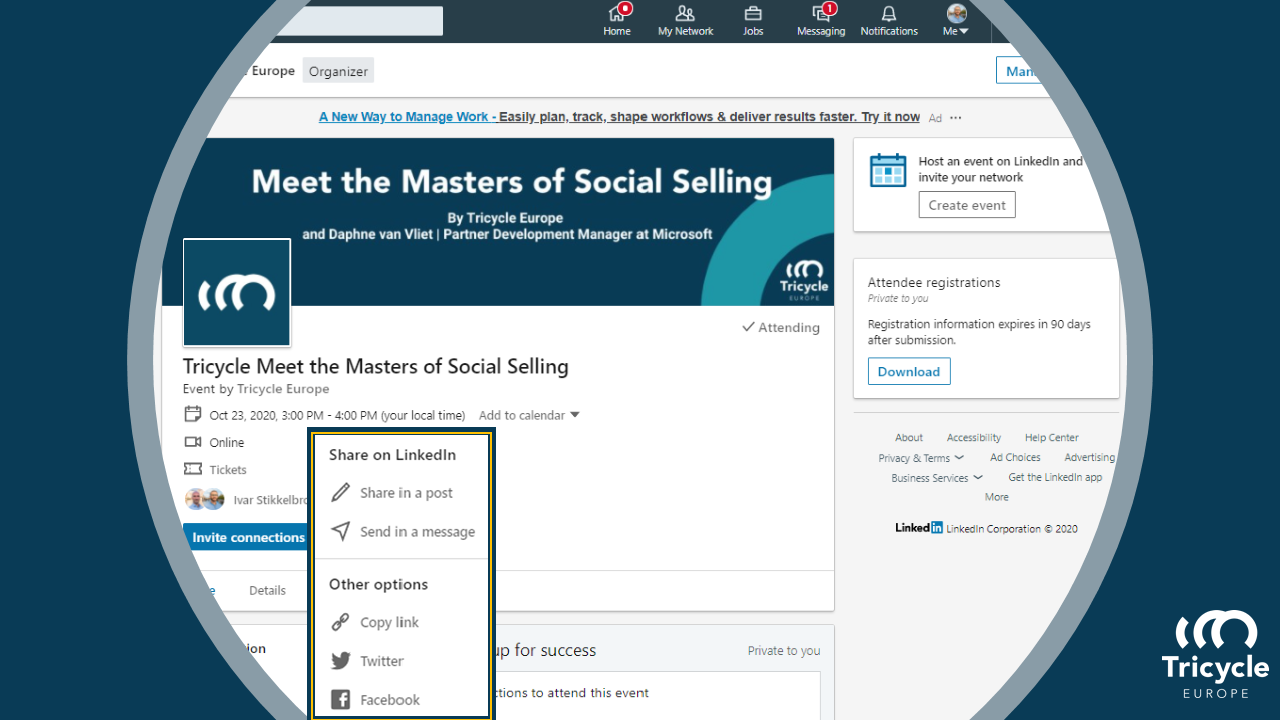 Promote LinkedIn events and retarget previous attendee lists
Wouldn't it be great if you could re-target those leads that showed interest in your online event through LinkedIn Events? What about sponsoring your LinkedIn Events? Now it is possible, which is great news!
After coaching many sellers and marketers, we have noticed that organizations struggle to get their employees to engage with their corporate content. The same thing happens when they ask their employees to invite their connections to events through LinkedIn Events. The lack of time,  interest, or different priorities, are some of the barriers they face. If your organic reach is not good enough, you can now explore new possibilities within LinkedIn Ads before and after the event.
It has been released the possibility to sponsor LinkedIn Event content as well as re-target the audience you attract by LinkedIn Events. What are the benefits?
Drive more attendance. Reinforce your lead generation results by sponsoring your online events and the content you share via LinkedIn Events.
Guide your prospect through the journey. Thanks to the re-targeting option, you can now re-target those leads that have registered to previous events, which will help you to guide your prospects through their buying journey. Do not miss the opportunity to accelerate the buyer's journey from the awareness to conversion.
Better analytics. As it is well known, LinkedIn Paid Advertisement also provides analytics that helps marketers to improve their future campaigns. By sponsoring events and its content around, you will be able to analyze what leads your prospect to engage and register for your events. Eventually, you will enable the possibility to tailor your content according to what your customers and prospects need.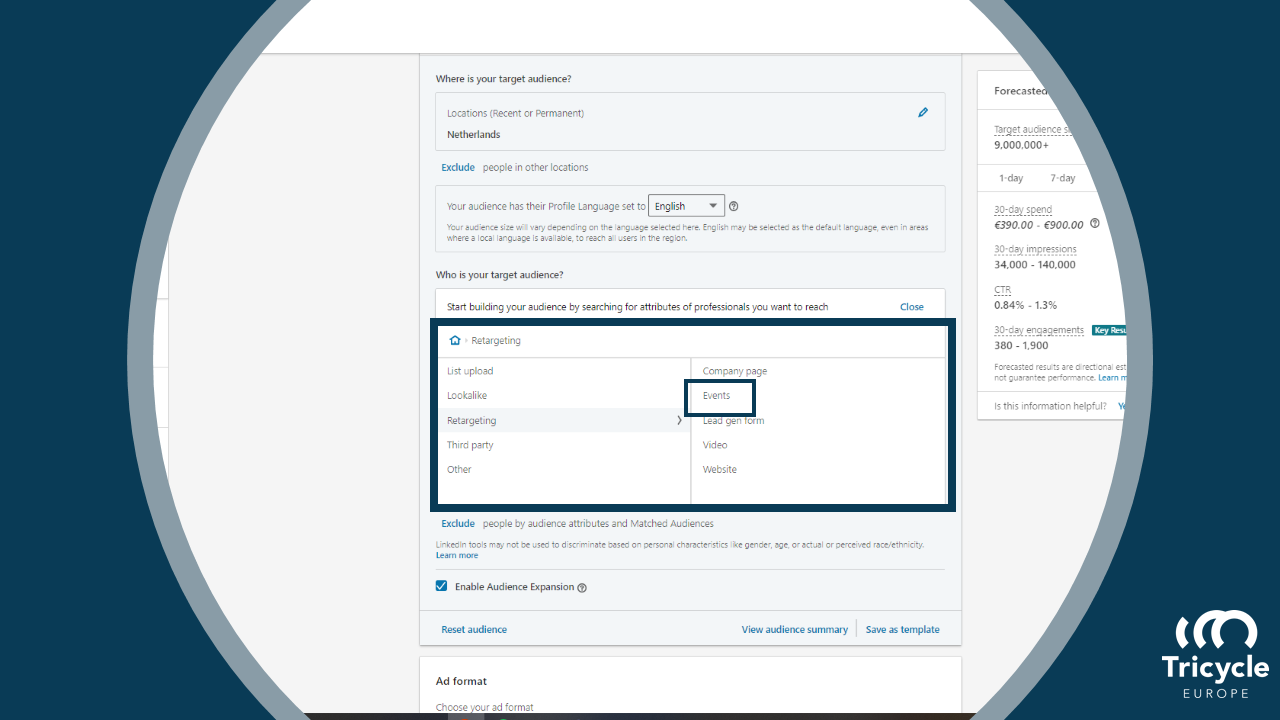 Undoubtedly, this is one of the highlights of this important update. You can sponsor future content within that target audience that registered or attended past events. Additionally, you can sponsor the events themselves within LinkedIn. What a great update for marketing professionals!
A renovated attendee experience
Previously, certain challenges were jeopardizing the attendee experience. For instance, attendees were getting official tickets for the event or missing the action of adding the event to their calendars. In fact, these struggles were producing lower attendance rate. Since this new update was released, the attendee journey has improved tremendously, leading to much higher attendance rates. Isn't that great?
What does the new attendee experience look like? What are the benefits? Let us show you:
[2 weeks before] Drive organic and paid discovery. Attract the right audience by considering compelling speakers and personalizing the event's content. After an attendee hit "attend" and potentially submit their contact details, an automatic process begins – even calendar reminders.
[1 week before] Amplify engagement and excitement. Get your audience excited by automated notifications like "one week away for the event" or what other people from their connections are also attending. Make sure you post content, polls or videos in the event's feed to generate pre-conversations,
[3 days before] Ensure attendance. An automated notification will arrive in attendee's LinkedIn notifications to remind them that the event is coming up in three days. In the meantime, we highly encourage you to get your speaker(s) involve(s) in the LinkedIn Event's feed to raise engagement and excitement amongst the attendees. Pro tip: every post in the event's feed can be recommended to all attendees, which will add an extra notification in their LinkedIn profiles. Search for the "recommend post button' on the right top corner of any post and hit recommend the post to all attendees.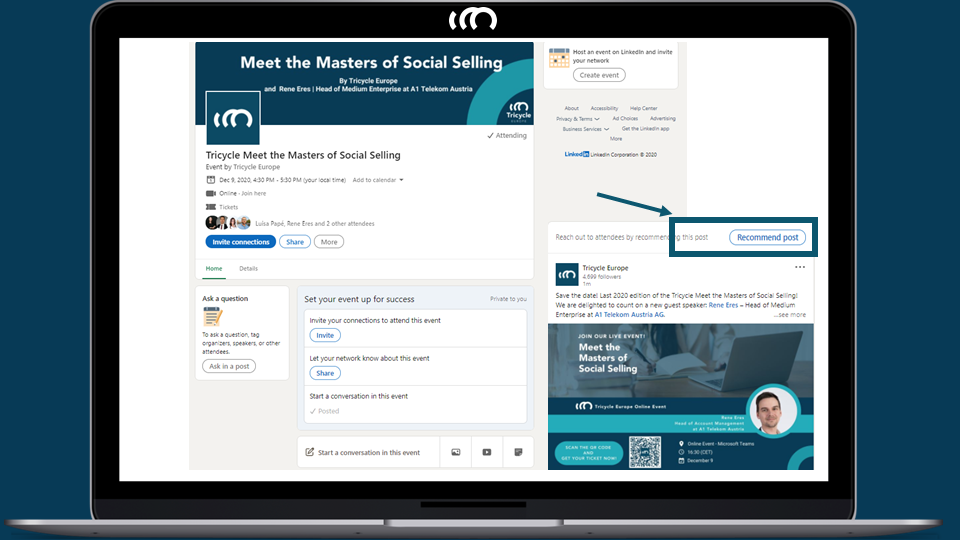 [Day of the event] Manage event end-to-end. The attendee will receive a notification saying "Almost showtime – 15 minutes left". It will also allow the attendee to find the streaming link easily.
[Day after the event] Continue the conversation. Collect feedback, encourage them to watch the event again or retarget the attendees for future marketing activities (including events).  Source: LinkedIn Business Solutions 
On December 9 at 16:30, we will be hosting our last 2020 edition of the Tricycle Meet the Masters of Social Selling. Are you curious to know the attendee experience we mentioned above in one of our events? Join Rene Eres – Head of Medium Enterprise at A1 Austria Telekom, and Sarah Loessner – Tricycle Digital Business Coach, to learn how Rene, his sales team and A1 Austria Telekom is winning in the digital space by implementing the right social selling strategy.
We believe the future will be shaped by how people use digital tools and platforms. Therefore, we are supporting organizations to set the foundation to win in the digital space.