Employees who master Social Selling play a crucial role in the transition towards a more modern selling strategy. They are the best ambassadors, setting a standard for their company and encouraging them to adopt social selling techniques actively. This event is designed to show how thought leaders are implementing social selling and why you should embrace it. We would like to invite you to our Meet the Masters of Social Selling on December 9 at 16:30 CET.
For the last edition of Tricycle Meet the Masters of Social Selling in 2020, we will count on Rene Eres — Head of Medium Enterprise at A1 Telekom Austria — as a guest speaker. He will share the virtual floor with Sarah Loessner — Digital Business Coach at Tricycle Europe. Rene will share his success story after implementing a social selling strategy for his sales team.
SPEAKER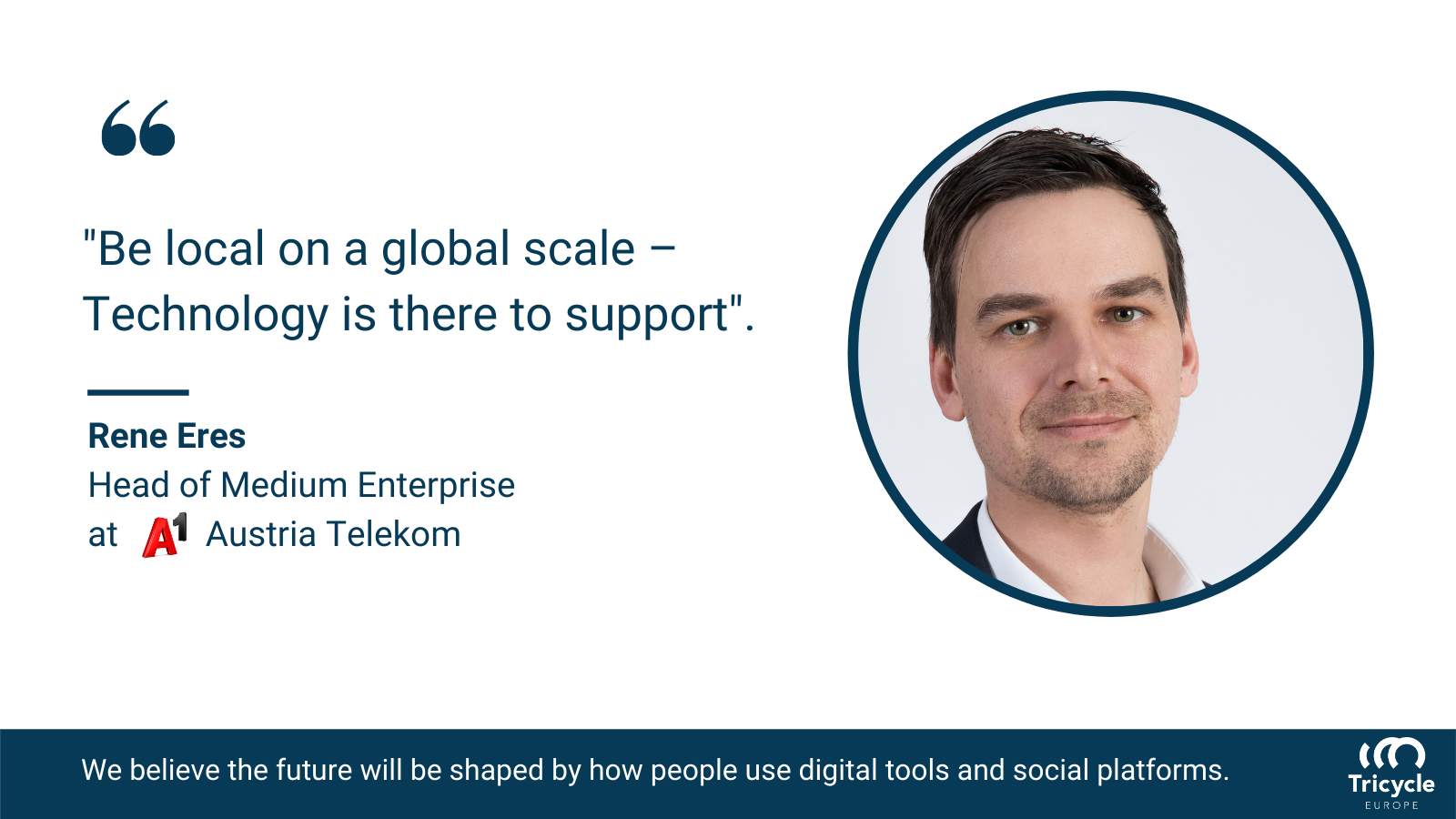 He started his career in A1 Telekom Austria 3 years ago, when he decided the job he had, which was associated with a lot of travelling in Europe, is too far away from his core interest and wanted activities.
Luckily he had the opportunity to join Austria's largest Telecommunications company and focus on things he likes to do in an environment which is offering me the best development and working with people who have a clear view and eagerness to enable our customers to thrive in a digital world.
At the moment he is leading a team of 12 account managers in the South of Austria, who make me very proud every day as he sees them care for our customers, having their success in mind and supporting them in the digital venture they are confronted with and or are actively driving in order to succeed in the regional and global marketplace.
Beyond that, artificial intelligence and its opportunities and risks from a technological and societal point of view is an area that he likes to look at in detail.
The world is standing on the verge of a digital revolution, and this digitalization is rapidly changing the way we do business. As the information gap between buyer and seller is closing, the buyer's journey changes, calling for an entirely new approach to selling. Social Selling is a tactic designed to identify where the buyers stand and influence them earlier in the buying cycle. Sellers who have mastered this tactic are proven to have more business opportunities, more connections with business decision-makers and shorter closing times.
At Tricycle Europe, we support organizations worldwide through made-to-measure programs. With our effective and efficient solutions, we have established ourselves as digital coaching experts, assisting companies like Microsoft & Philips to excel in the art of Social Selling. We continue to cater to organizations through other services too, offering end-to-end sales support including demand-generation, compliance- and control and tool-based learning.
We believe that the future will be shaped by how people use digital tools and platforms. That is why we establish the foundation for large technology companies to win in the social space.