The digital selling wave is only getting bigger as LinkedIn is rolling with the times by equipping us Sales and Marketing professionals with the productivity features we need to gain deepener insights into prospects and penetrate our target key accounts!
Last week, LinkedIn launched a new update designed to optimize our sales outreach flow and provide users with better insights to strategically touching points with the key stakeholders in our key accounts.
In the next couple of months, LinkedIn will be rolling out a brand new Account Mapping feature, a high-demand change that we've all been waiting for. This account map that LinkedIn will generate through the Sales Navigator platform will visualize all the key stakeholders in a target account. In the past years, we enjoyed updates such as CRM syncing, PointDrive integration, and an exclusive enterprise model.
Sales Navigator is designed to provide sales and marketing teams with the insights to identify the right people and organizations to get into contact with by leveraging the wide capabilities of business and engagement data that LinkedIn gathers. Moreover, through integrations such as merging it to your designated CRM, whether be it HubSpot or LinkedIn, for example, it would allow for Sales and Marketing teams to sync their active and prospective sales database to make sure they're up to date and relevant.
What's new on LinkedIn Sales Navigator?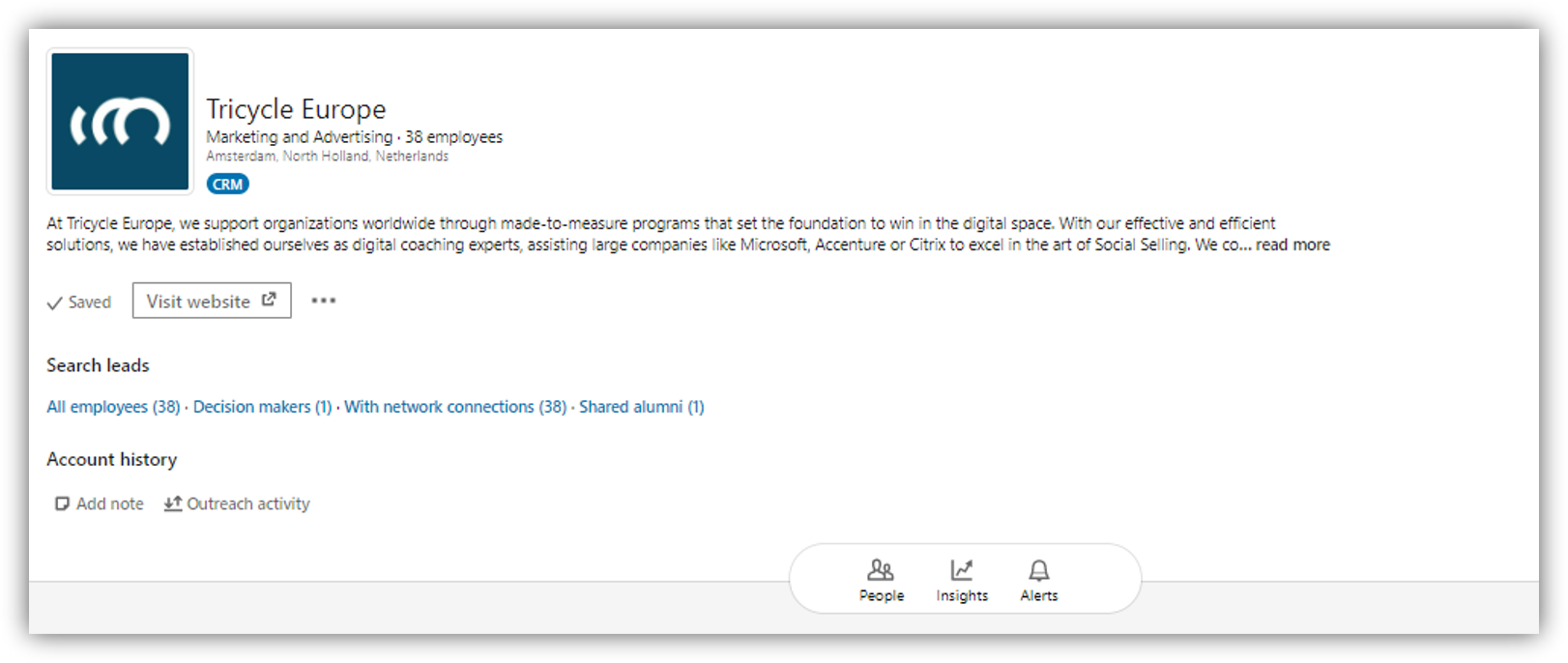 This account mapping feature is certainly the gamechanger we've been waiting for as it further aligns team collaboration as LinkedIn visualizes all the relevant key stakeholders in a target account by identifying and gaps and keeping track of who to get in touch with and how through multiple Tiers based on seniority levels and departments. This way, we're able to strategically build a sales strategy around the need for multi-threading and getting in touch with the buying committee and decision-makers. The new layout prompts users with "People," Insights," and "Alerts."  
The Account Map will virtually provide Sales and Marketing teams the investigation goggles and visual chart to see how well penetrated the key accounts are and evaluate who the key stakeholders are and where they are in the lead funnel to nurture them further sales funnel.
One of our best practices around lead generation on Sales Navigator is through an Account-Based approach; by searching and saving by Accounts over searching for "leads" or people by titles or any other filter.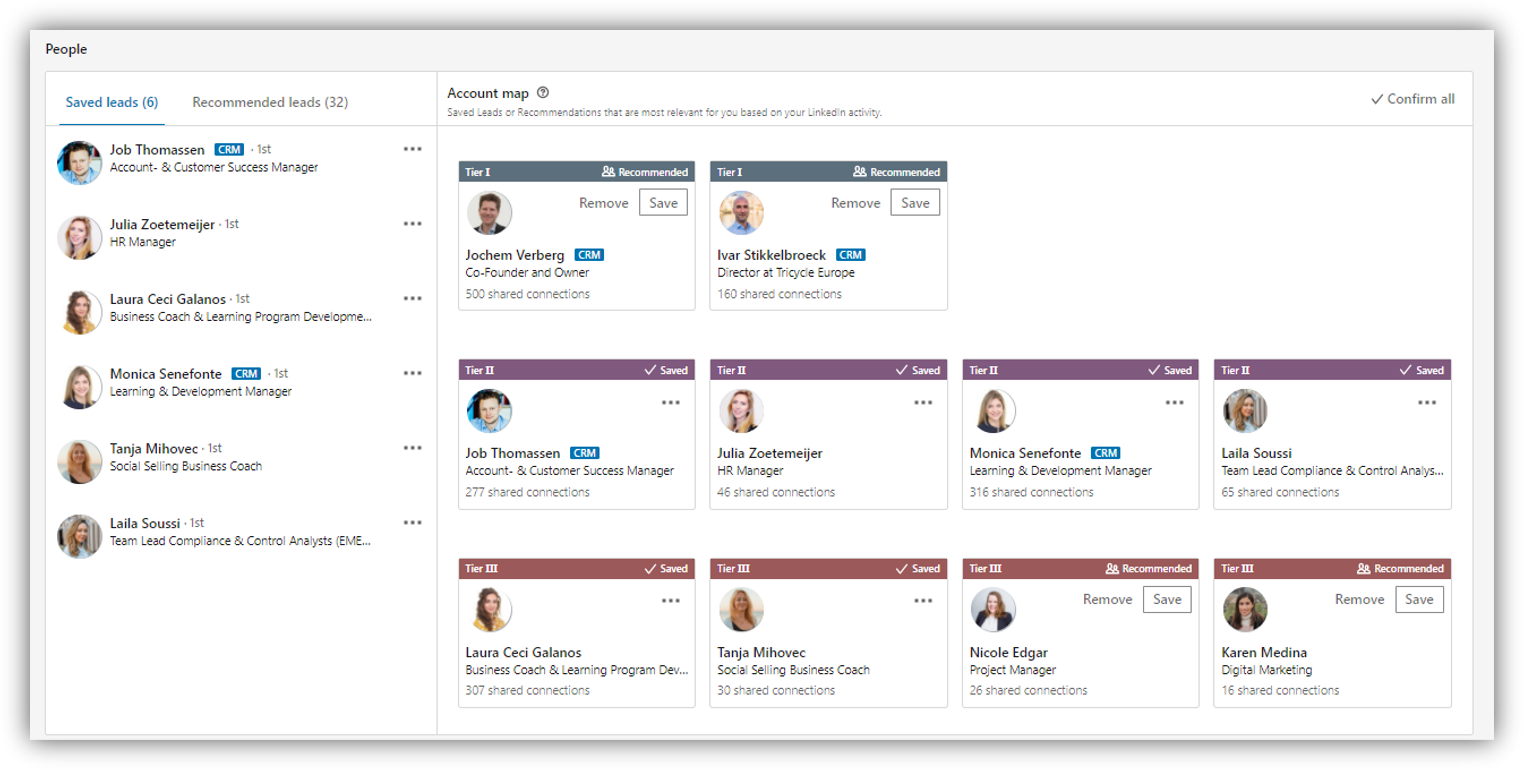 Hereby the "People" tab. This new Account mapping feature is a game-changer, especially for those who work visually and through an Account-based approach, as this offers us greater insights and depth into the accounts we want to penetrate. The ability to visualize relationships and mapping to identify opportunities and key stakeholders in the buying committee is vital for sales teams to penetrate complex and large companies or business units.  
Seeing already–established connections but also identifying potential new connections is critical for sales success. Moreover, the Account mapping feature also allows us to rank the leads by seniority level (Tier 1, Tier 2, and Tier 3) to visualize the hierarchy and strategize our sales outreach accordingly. Bear in mind, the average group of people in the buying committee range from 6 to 10 people, and for that reason, we must be in the know of who we need to be in touch with. 

Taking a look at the "Growth Insights" tab, Sales Navigator gathers the insights with regards to the employee headcount in terms of growth, the distribution of the employee population in terms of Department growth, the statistics of new hires through the months, and the number of job openings available. From a sales perspective, the employee turnover and reconstructions of the workforce could also suggest potential opportunities.  

By monitoring alerts around the key accounts of focus, sales professionals will keep track of any leadership changes, for example, account growth and account-relevant news. This will ensure that sales teams are in the loop of what's going on within these accounts and can use it to leverage any potential opportunities or build rapport with the stakeholders.  
LinkedIn has been developing their features through machine-learning, AI, and predictive analytics as sales enablement tools are rising, with sales highly digitizing in these changing times. Keep your eyes and ears open to these updates, as these could be the next best thing you're looking for to optimize your sales strategy and workflow! 
What's to come?
This feature will be made available to all Sales Navigator subscription, namely the Professional, Team, and Enterprise models, alongside an exclusive Enterprise feature which would allow them to directly save new leads into their CRM system from the Sales Navigator platform, meaning you can now work on a centralized platform without having to go from one to the other and save them manually.
Moreover, in the Q4 of 2020, LinkedIn allowed Sales Navigator users to upload account lists to provide the tool a deeper understanding of seller's accounts, alongside full CRM integrations in lists, account outreach activity, and more alerts. 2021's Q1 release will support a revamp of the account profile through account mapping, which accounts for leadership changes, seniority levels, engagement tracking, and alerts to keep the seller updated.

Enterprise subscribers are also provided with the ability to import CSV files into Sales Navigator to sync their internal workflows and monitor engagements such as connection requests, messages, and Smart Link activities. Meanwhile, Team subscribers will be given this capability starting this quarter as well.
Putting the dots together, the revamped and redesigned Account Map allows us to gain a broad view of the buying committee as we keep track of real-time alerts of what's going on organizationally and on a micro-level with regards to the target stakeholders on a centralized dashboard time effectively.
These are game-changing updates as it brings digital selling to new heights, allowing us to adopt the Account-based Marketing approach fully into our sales strategies, with communication technologies playing an integral part in the buyer-first agenda as we establish trusted relationships in the digital space.
If you want to know more about how to enable social selling skills and social media strategies for your sales and marketing teams at scale, join our next live event where we'll dive deeper into how to win in the digital space with social selling!