Tricycle Europe's family keeps growing! With a background in Marketing, Alexandra has recently started at Tricycle as our newest Junior Business Consultant and she is now "fostering the digital transformation of organizations with a focus on shifting traditional sales processes to a modern way of succeeding in the digital space".
It is always a great joy for us to see new smiling faces and to add new talented employees to our team. Welcome to the team, Alexandra! We are excited to have you on board and wish you a successful journey ahead.
Our newest member is Alexandra Gor!
" I am joining Tricycle Europe as a Digital Business Consultant. In this role, I provide Marketing and Sales professionals the resources to connect with their target audience, to generate a pipeline of high-quality prospects, leverage value through strong online professional branding to allow them to ultimately build sustainable business relationships in the digital ecosystem."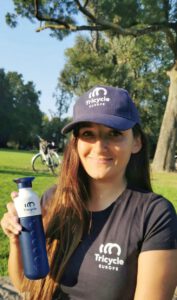 After her onboarding, Alexandra has been interviewed by our marketing department to bring you a bit of her story.
Where have you lived in your life?
I have lived in France, Guadeloupe, the United Kingdom and now I live in the Netherlands!
What is your favorite childhood memory?
Spending my summer holidays in nature and in my grandma's garden. Growing up in Paris, I loved escaping the city life and going to the countryside; it was a whole new fantastical world to me.
What is the best piece of advice you've ever received? 
Find happiness in the simple things in life.
What is the coolest thing about your job? 
I really enjoy working in such a fast-paced technologically driven environment. I am learning something new every day, which is amazing. I also find it interesting to work closely with clients and to help them to achieve their goals by creating a strong professional brand and nurturing meaningful relationships online. The coolest thing about my job; however, is the work environment and my lovely colleagues who have made me feel like a valued member of the Tricycle family from day 1.
What was the first thing you bought with your own money? 
I went to a carnival fair with my best friend, we bought cotton candy and went on fun rides.
If you could time travel, when and where would you go? 
I would love to go back to the Greek empire, the Roman empire. I would also love to go back to the 60s to go to concerts of the Rolling Stones, Bob Dylan, The Doors, Led Zeppelin and many more amazing artists!
If you could pick a superpower, what would you choose? 
I would love to have the ability to teleport!
What's your favorite inspirational quote? 
''Don't take life too seriously, nobody gets out alive anyway."
Having a new employee results in a growing team, which means we are getting more resources to bring you closer to our mission: establish the foundation for large technology companies to win in the social space. We believe that the future will be shaped by how people use digital tools and platforms.  If you want to know how we can guide you in your digital transformation journey, do not hesitate in reaching out to us.