Tricycle Europe's family keeps growing! Our newest Senior Project Manager, Audrey, started a few weeks ago at Tricycle. She believes that "if it's not challenging, then it's not worth it". This is why she likes challenging herself and learning new things by getting out of her comfort zone and exploring new territories. She has been living and working around the world for the past 20 years!
It is always a great joy for us to see new smiling faces and to add new talented employees to our team. Welcome to the team, Audrey! We are excited to have you on board and wish you a successful journey ahead.
Our newest member is Audrey Vichard!
"When I first heard about Tricycle Europe, I felt very enthusiastic. The concept of social selling was totally new to me but instantly caught my interest! I also felt deeply connected to the company's "people-first" value and the mantra that every relationship matters. It's great to see an organization who puts human values at first. I've recently joined Tricycle Europe as a Senior Project Manager. In my role, I bring projects to life by coordinating, planning and organizing while aligning with our business consultants to deliver tailor-made programs to our stakeholders."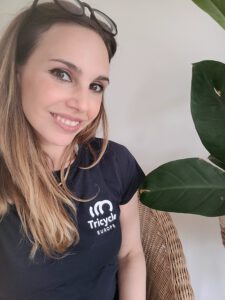 After her onboarding, Audrey has been interviewed by our marketing department to bring you a bit of her story.
Where have you lived in your life?
I was born in France and lived there until the age of 22. Then I had the opportunity to live in Israel, China and Taiwan. I now live in The Netherlands, in Amsterdam.
What is your favorite childhood memory?
There are many but the most vivid one is the excitement and joy to see the first snow every winter in my hometown! I remember opening the window shutters and discovering the white immaculate coat of snow outside our apartment; I would dress up quickly and go play in the snow, at 7am!
What is the best piece of advice you've ever received? 
Your best is good enough. To achieve perfection in any aspects of your life is a mirage; if you know you've done your best, you should feel content, no matter the outcome.
What is the coolest thing about your job? 
I love working with the inspiring and talented people in the Tricycle Team! There's a great team spirit and everyone is always very supportive of each other. I also enjoy the dynamism of my job, not every day looks the same and new projects bring new challenges and new learnings.
What was the first thing you bought with your own money? 
When I started earning my own money,  I enjoyed buying small gifts for my parents. They didn't have much value, but I felt proud and happy to be able to give them back.
If you could time travel, when and where would you go? 
I'm a huge fan of the series Mad Men because I'm fascinated by the 60's period in the US; it was a decade of big change, revolution, great music, amazing style and so many historical events. I would love to take a short trip back in time there.
If you could pick a superpower, what would you choose? 
As I have many loved ones all around the globe, it could be amazing to just teleport myself for a few hours a day, to catch up with my friends in Taiwan around a bubble tea or spend the afternoon on a beach in Tel Aviv with my best friend.
What's your favorite inspirational quote? 
"If you wait it won't be undone", it's actually a quote from one of my favorite songs! To me it means to live your life fully and not wait until tomorrow, the next week, year or even retirement to do the things you want.
Having a new employee results in a growing team, which means we are getting more resources to bring you closer to our mission: establish the foundation for large technology companies to win in the social space. We believe that the future will be shaped by how people use digital tools and platforms.  If you want to know how we can guide you in your digital transformation journey, do not hesitate in reaching out to us.