Tricycle Europe's family keeps growing! With a background in HR & Recruitment, Shawnda started a few weeks ago as our newest Senior Business Consultant at Tricycle. She believes that "as the world becomes increasingly digital and companies navigate new ways of work, bridging technology and human relationships pose new challenges….and opportunities!". 
It is always a great joy for us to see new smiling faces and to add new talented employees to our team. Welcome to the team, Shawnda! We are excited to have you on board and wish you a successful journey ahead.
Our newest member is Shawnda Kohr!
"At Tricycle, I'm a Senior Business Consultant and trusted advisor for organizations, teams, and executives embarking on their digital transformation journey. Bridging technology and human relationships has become increasingly complex, but vital to successful hybrid work environments. I bring strategies for using digital tools to transform the way we work, maximize relationships, and achieve business objectives. Beyond this, I get to leverage my experiences working in human resources to empower professionals to find their authentic voice and bring positive change and influence to their social communities."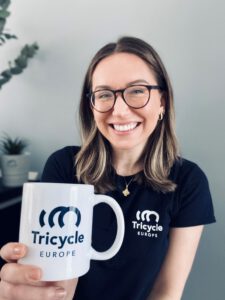 After her onboarding, Shawnda has been interviewed by our marketing department to bring you a bit of her story.
Where have you lived in your life?
Born and raised in Pennsylvania, U.S.A, I first moved abroad when I studied in Rome, Italy for a semester while pursuing my bachelor's degree. After completing my degree at La Salle University in Philadelphia, I moved to New York City where I lived for 5 years. In 2017 I moved to Thailand, and in 2019 I began my journey in the Netherlands. Currently, my husband and I live in The Hague and enjoy having the best of the city and beach.
What is your favorite childhood memory?
I spent 11 years of my childhood in boarding school and have many wonderful memories from that experience. Once a month our houseparents would host fun themed dinners. One evening my houseparents put a fun twist on a spaghetti night. We were served the spaghetti directly on the dining room table and weren't given plates or utensils. It was a huge mess to clean up, but so much fun!
What is the best piece of advice you've ever received? 
A dear friend once told me, "You'll only regret the things you didn't do in life!" This nugget of wisdom inspired me to take many courageous leaps both personally and professionally. Following that advice, I've traveled to 30+ countries and have embraced the challenges and beauty of being an American expat. Leaning into exploring new places and cultures has truly given me a growth mindset – I want to learn it all and do it all!
What is the coolest thing about your job? 
I get to work with teams and executives from all over the world! Tricycle Europe has a robust portfolio of clients, some of which are among the world's largest tech companies. As a coach, I get to influence top business leaders and show them the power of being authentic, embracing digital tools, and harnessing the value of social.
What was the first thing you bought with your own money? 
I imagine it was likely a Celine Dion CD, probably her "Let's Talk About Love" album. Titanic fans will know this album well!
If you could time travel, when and where would you go? 
As a former New Yorker, I would have loved to experience the city during the roaring 20s!  Even though the 1920s was a period defined by organized crime and prohibition, it was also a decade that birthed jazz and blues (I'm a huge fan). Some of the city's most iconic skyscrapers were being built and traditions like the Macy's Thanksgiving Day Parade first began. New York was greatly shaped by this decade, and I would have loved to witness this moment in time.
If you could pick a superpower, what would you choose? 
I wish I had the power to replicate! With so many friends and family spread across the globe, being in multiple places at once would be super helpful. That way I would never miss milestone celebrations and life-changing moments.
What's your favorite inspirational quote? 
"One is only happy in proportion as he makes others feel happy and only useful as he contributes his influences for the finer callings in life." ~ Milton S. Hershey
Milton Hershey is the founder of Hershey's chocolate and the Milton Hershey School in Pennsylvania, USA, a boarding school that first opened in 1909 for orphaned children. The school still operates today and has provided care for thousands of underprivileged kids. I'm a proud alumna of the Milton Hershey School and feel deeply grateful for Milton's generosity that has and will continue to change lives for generations. I try to embrace every opportunity to show that same generosity by caring for others in need.
Having a new employee results in a growing team, which means we are getting more resources to bring you closer to our mission: establish the foundation for large technology companies to win in the social space. We believe that the future will be shaped by how people use digital tools and platforms.  If you want to know how we can guide you in your digital transformation journey, do not hesitate in reaching out to us.