Tricycle Europe's family keeps growing! With expertise in Marketing and Social Selling, Mariana just started as our newest Digital Business Consultant at Tricycle. For her, "the best way to grow is by building and fostering valuable relationships." She is an advocate of Social Selling and persuades others to "start building relationships, adding value to prospects, engaging with partners, and strengthening connections."
It is always a great joy for us to see new smiling faces and to add new talented employees to our team. Welcome to the team, Mariana! We are excited to have you on board and wish you a successful journey ahead.
Our newest member is Mariana Lima!
"Joining Tricycle is an old dream. It all started in 2018 when I joined one of their training – my first contact with social selling and the big change in my carrier. Now, here I am, ready to learn even more and share some knowledge to empower others to achieve their goals."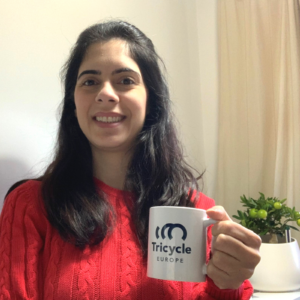 After her onboarding, Mariana has been interviewed by our marketing department to bring you a bit of her story.
Where have you lived in your life?
I was born and raised in Rio de Janeiro, Brazil. About 4 years ago I decided that it was time for an international experience and decided to move to Lisbon, Portugal, where I currently live.
What is your favorite childhood memory?
Some of my sweetest memories are from my grandmother's house, in a small city in Brazil, Valença. Coming from a big family, there was the place where we were all together: all 9 aunts and uncles and more than 15 grandkids. But the favourite ones are all from Christmas time.
What is the best piece of advice you've ever received? 
Treat everyone with kindness and respect, you don't know the battles that they are facing.
What is the coolest thing about your job? 
There are so many cool things that I can't pick just one. First is to be able to meet people from all over the world, with different backgrounds, cultures and life experiences (I am all about building and nurturing relationships) and being able to help them leverage their professional and personal brand and to transform their business with digital tools, like LinkedIn.
One other thing is not having a fixed routine. We run so many different programs with so many different clients, that all days are different.
What was the first thing you bought with your own money? 
I bought Adidas sneakers I was dying for and some clothes – my first job was in a store, and it is safe to say that I left most of my first paycheck there. Gladly I am much better with my finances now. 😂
If you could time travel, when and where would you go? 
Although I really like the past, especially the middle ages, it was quite an unsafe place for most women. So I would probably choose to go to the future, maybe 30-40 years from now, to see how my life turned out to be.
If you could pick a superpower, what would you choose? 
Definitely teleportation, not only to be able to visit family and friends in Brazil but also to be able to quickly travel all over the world and meet new people and cultures.
What's your favorite inspirational quote? 
Trust your hard work is unlocking doors you can't even see. It talks about patience and perseverance and also about having a goal and working every day to get there.
Having a new employee results in a growing team, which means we are getting more resources to bring you closer to our mission: establish the foundation for large technology companies to win in the social space. We believe that the future will be shaped by how people use digital tools and platforms.  If you want to know how we can guide you in your digital transformation journey, do not hesitate in reaching out to us.