Tricycle Europe's family keeps growing! With a background in Marketing and Communications, Maria just started as our newest Jr. Inside Sales Account Manager at Tricycle. Her approach to life "is guided by determination and kindness, with a strong propension to networking and connecting with people" around her.
It is always a great joy for us to see new smiling faces and to add new talented employees to our team. Welcome to the team, Maria! We are excited to have you on board and wish you a successful journey ahead.
Our newest member is Maria Pagani!
"In my role as Inside Sales Account & Relationship Manager, my focus is building meaningful relationships with clients and helping them thrive in their digital transformation journey."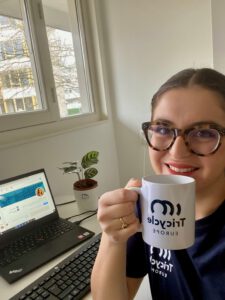 After her onboarding, Maria has been interviewed by our marketing department to bring you a bit of her story.
Where have you lived in your life?
I was born and raised in a town near Lake Como, Italy but I've always wanted to live abroad. So here I am!
What is your favorite childhood memory?
Building forts in my backyard with my brother and inventing crazy stories about us living on trees and being pirates. And then we would have lunch with my grandma and my mom in the garden.
What is the best piece of advice you've ever received? 
Always stay true to yourself and never let what somebody says distract you from your goals.
What is the coolest thing about your job? 
Connecting with extremely talented people on a daily basis. Being naturally prone to networking, I love this relational side of my job.
What was the first thing you bought with your own money? 
Flight ticket to Spain.
If you could time travel, when and where would you go? 
Paris, during the 1920s. To hang out with Pablo Picasso and Gertrude Stain in a bistrot like in the movie Midnight in Paris.
If you could pick a superpower, what would you choose? 
Cooking magical food that makes people's wishes come true.
What's your favorite inspirational quote? 
"Don't be afraid. Be focused. Be determined. Be hopeful. Be empowered." — Michelle Obama
Having a new employee results in a growing team, which means we are getting more resources to bring you closer to our mission: establish the foundation for large technology companies to win in the social space. We believe that the future will be shaped by how people use digital tools and platforms.  If you want to know how we can guide you in your digital transformation journey, do not hesitate in reaching out to us.