Digital sales tools have catalyzed productivity, creativity, and enabled salespeople to take innovative approaches to social selling. While they have also inversely shrunk sales departments, employees are no longer spending time on non-value-adding tasks or using scripts.
The digital transformation has effectively removed the barriers between clients and companies. Instead of talking, we engage. Instead of script, we're our authentic selves–and instead of repetition, we deploy a tailored approach.
This era was ushered in by the widespread adoption of the internet and digital tools. Even when paper ledgers were done away with for rudimentary spreadsheets, our ability to work efficiently jumped by leaps and bounds. Do you know any flourishing businesses that still run on paper? Probably not.
Choosing Sales Enablement Tools In Industry 4.0
It's not enough to say that efficient, successful sales teams are the only ones using sales productivity tools. These sales automation tools work better for one company's process than another. An established company could be missing out on revenue with the wrong tool and a startup could disrupt an entire sector using the right one.
A typical day in the life of a digital salesperson should start in the CRM (Dynamics, Salesforce, or Hubspot). These SaaS's will quickly display where all of their leads are progressing in the buyer's journey. The possible next steps should be directly aligned with the company's marketing strategy. This could be a specific conversation on LinkedIn, sharing relevant content with them, inviting them to a webinar, or scheduling a call. Ultimately, the action you take needs to show that you're listening and feel authentic.
To take it a layer deeper, these sales automation tools are often underutilized. Below we've outlined a few of the big players in the digital sales tool marketplace.
LinkedIn Sales Navigator
This is LinkedIn's sales management platform. It's made for sales representatives to comb the network for the best-fit leads, export email addresses, engage with connections, and grow their personal brand.
Microsoft Dynamics
Dynamics 365 is a blend of CRM and ERP capabilities that can help to align your entire organization whether it's data, operations, strategy, or financials. Everything can be housed in one platform this way.
Salesforce
Salesforce is a cloud computing SaaS that is focused on CRM. Although it's customer-centric, it has a full suite of tools for project management, collaboration, engagement, reporting, and analytics.
Freshworks
A software suite that is intuitive and easy to use so you have a happy and engaged workforce who in turn help you build and create lasting relationships with customers for life.
Hubspot
Hubspot is an inbound marketing and sales platform that helps salespeople track leads and convert them into customers. It's known for offering a full suite of tools that can manage the customer journey, track employee performance, and also boasts a powerful CRM.
Showpad
The all-in-one sales enablement platform. The Showpad sales enablement platform integrates industry-leading training and coaching software with innovative content solutions to empower sales and marketing to engage the modern buyer. With our SDK, API, and Partner Program, we offer an open solution that works with the technologies you've invested in.
Seismic
Seismic is touted for being a sales productivity gamechanger. It has automated the process of dripping sales content to leads, removing yet another manual process from the funnel. This approach ensures an engaging sales process for both the reps and the clients.
Sprout Social
Sprout Social is a social listening tool. It's also a social media management platform designed to scale with businesses and agencies. SproutSocial can be your focused hub for publishing, reporting, and content engagement no matter which platform you're using.

How To Measure Sales Productivity
While we could dive into complicated formulas and benchmark achievements based on time with the company, there is an easier way. How many sales automation tools is your company using? Are the tools scalable and how many processes are completed manually?
The answers are subjective from one organization to the next. However, it's not about the number of tools you're using. It's about using them effectively for the business you have today and the business you plan to have in the next five years. Essentially, the tools should be a part of daily routines.
Consider the CRM the beating heart of your organization. It contains all the details on the clients and perhaps down to where they last went on holiday. The sales CRM tool can also show where and when the client first interacted with the company. This could be an email signup, LinkedIn connection, trade show, and the list goes on. A tool that seamlessly records every interaction and the result saves countless hours on prospecting and profit forecasting.
The best digital sellers are using tools to offload and manage tasks. They're not burdened by endless admin work or unaware of next steps. They know the value of building relationships and use technology to tap into the customer's pain points instead of projecting and assuming. The CRM makes the fine details available to all. Should the usual rep not be available, the customer can still have a seamless experience when they speak to someone different.
The Best Sales Prospecting Tools Keep You A Cut Above The Competition
Tools like Seismic automate a content drip. The other side of that is asking yourself this: Based on who we are as a company, how do our clients want and expect to engage with us outside of social posts? Are you at renown trade shows, email blasting, engaging on social, making phone calls, attending networking events, or meeting them face-to-face?
This layer of marketing mix goes beyond deploying content. It records the progression of interactions from the first hello and beyond contract signing. Companies that consider engagement beyond the digital world will break barriers and develop the most engaged customers in their space. Place someone on your sales team in charge of live event opportunities and ensure their efforts are aligned with your marketing and PR departments for consistency.
Now, how is this multi-layered marketing mix enabling salespeople to do their best possible work? Instead of the antiquated "spray and pray" or "magic bullet" methods of the past, salespeople are able to creatively tailor a set of messages throughout the process. Tools like LinkedIn Sales Navigator are used for fruitful, personal interactions that address pain points and map the journey.
If your reps feel their leads are "stuck" or not progressing, look at how connected your Marketing and Sales departments are aligned. While Marketing is charged with a portion of the inbound strategy, the salespeople need to execute that same messaging from their end. This is feeding leads the right content at the right time, building trust, and recording their feedback in the CRM for Marketing to review.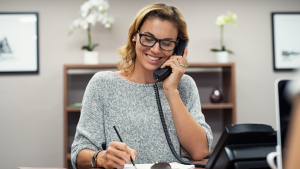 Social Selling and Sales Enablement
At the end, customers should feel like they know the rep, the company, and their needs are heard. This is largely due to a new innovation: social selling. Social selling is a series of direct interactions with the lead that's focused on relationship building. It can happen over LinkedIn Messenger, emails, or phone calls, but ideally it's a mix.
Salespeople need to look at a series of factors when creating their mix. They can kick off the interaction on LinkedIn Messenger. If the interaction goes well, they'll schedule a video or phone call. Depending on the result of the call, there will be a series of follow-ups that lead to the sale. In the background, the lead is getting email newsletters, reading content, and seeing social media posts from X company.
Keep in mind that salespeople cannot go after the CEO right out of the gate. They need to leverage LinkedIn Sales Navigator to ensure they're well-connected within the lead's network. This helps them know if they're talking to the decision-maker and what the process might look like.
Now, consider a company that is not so tech-savvy. The conversation can kick off on LinkedIn, but the client might ask to meet face-to-face. They might ask to see printed publications or talk to more people at your company to make sure all of the facts line up. This is still a form of social selling. The difference is that it's inclusive for leads that need something tangible to make a decision. Bottom line: Know your customers before you even say hello.
Connecting all of these dots are your sales management tools. The best sales tools are flexible and help reps monitor and advance the buyer's journey from awareness to purchase. It's taking traditional communication and injecting it into the online space to make selling a social process.
What Are The Best Sales Productivity Tools?
The best tools make it easier to measure sales productivity metrics so leaders can coach and train their staff. These two words are often used interchangeably but are starkly different in the sales arena. Coaching enables a cognitive shift–a change in mindset. Training is akin to teaching in that it shows people how to do things.
We train our staff after hire so they understand workflows, team hierarchy, and how to use the software. Additional training might take place, but often training is a one-size approach and not related to sales skills. Coaching is all about the individual. Leaders that coach are considering learning zones, strengths, and the salesperson's individual learning style.
When someone gets unsolicited advice or tips that clearly don't apply to them, they're less likely to make progress. In fact, it's discouraging. Employees that don't feel heard or unsupported are more likely to leave the company than those that are growing and thriving.
If you're ready to dive deeper into the digital transformation and the social selling journey, join our Scaling Digital Selling Webinar on May 11 at 16:30 CET. Job Thomassen – Digital Selling Consultant at Tricycle Europe, will share with you key insights and steps towards selecting the right digital selling tools and how it fits into the overall sales enablement strategy for large organizations.