It's all about maximizing your time. And Sales Navigator has once again been optimized to make your searches and outreach more productive.  The platform has received an update and, among other things, boasts a newly designed home page, which is focused on making your efforts more effective. The updates will allow for easier lead alert follow-up, help optimize search results, display your connection options before sending an InMail and making saving groups of leads simpler.
At the end of the day, we need to stop worrying about spending time researching and focus on building relationships and selling with Sales Nav's new interface. It has been designed to provide you with actionable, relevant, and timely (ART) insights, which cut through the noise of your news feed. However, the tool doesn't work by itself; it needs fuel, by way of saved leads and accounts, to function properly and run at peak performance.
A jet cannot fly on regular fuel alone, it needs a high-performance kind to get it off the ground. Therefore, in order to optimize your searches with Sales Nav you need to fill it with all relevant target accounts and leads according to your professional interests. Therefore, your alerts and suggestions will be more accurate, saving time and yielding top-notch results. Let's take a detailed look at what's new:
A remodeled 'alert section'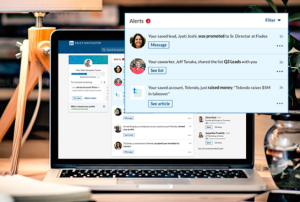 Get alerted to know what's your best next action within the tool and the recommended actions afterwards. This provides you with the best moment to engage with your leads or existing clients. Timing is everything. Don't get lost in the noise of having too many insights in the platform. Start focusing on what matters: building relationships.
You can now also filter by type of alert, delete them if no more action is needed, or turn them off if they are not relevant for you. Once again, letting you have extra time to focus on the important steps.

InMail & connection flow improvement
Truly leveraging the power of our first-degree network is always the goal but is often underutilized. With the new filtering function in InMail, you can now focus on a better inbox workflow, which will bring you closer to sealing more deals. The new interface makes it easier to gain an introduction from a common contact to a new lead, or to find out more insights about the target at a glance.
Search enhancements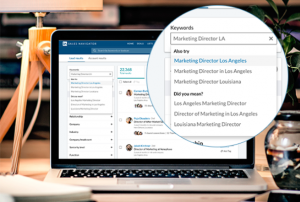 This is probably one of our favorite updates. How much time have you spent finding the right job title in your search?  Due to company culture diversity and the addition of new roles, the variety of job titles is vast. Now your queries will be more powerful with a newly redesigned search function, adding more keywords and data to pull from, making your targets easier to find.
New multiple saving/un-saving function
Did you experience the struggle of having to save a lead one by one and you thought I wish I could save them all? Now it is possible to do so. You can select multiple potential leads and save them as well as un-save them if you determine they aren't leads anymore.
The new interface also comes with a sales navigator assistance called 'Sales Navigator Coach' which comes with a series of videos to guide you through the different sales navigator functionalities and give you some tips. Therefore, making the use of the tool easier. It is similar to what you were used to see in your LinkedIn profile when starting in the network from beginner to all-start profile.
In sales and as in many other business areas, productivity is always welcome. The power of optimizing you time investment on tasks and routines can deliver better business results. Time is precious! Why not to get the best out of it? Sales Nav is getting you closer to it.
In today's everchanging, increasingly digitalized world, we have the luxury of amazing tech to help us achieve more; however, it is ultimately is up to us to be able to learn HOW the tool can really help us. That means we must continually transform, learn and embrace the power of these enhancements.
Tricycle Europe wants to constantly bring you the latest updates as well as offer you real business coaching so that you maximize your time and money investment. In the meantime, join our webinar Meet the Masters of Social Selling where you can gain more insights about updates in real live demo versions. It also bring masters of social selling to share with you and the rest of the attendees the best practices in the field. Are you going to miss that opportunity? Join for free !
Co-authors: Eric Haar and Javier Dominguez